The Indian Health Service continues to work closely with our tribal partners to coordinate a comprehensive public health response to COVID-19. Read the latest info.
Impacts and Outcomes
Since its launch in 2008 and with the support of IHS Area Quality Managers and their dedicated staff, the IPC program has made a significant difference in providing access to and the delivery of care to American Indians and Alaska Natives.
Here are some of our facilities' extraordinary success stories:
IHS Innovation Projects
The Indian Health Service (IHS) Innovation Projects aim to address social determinants of health — such as health literacy, transportation and access to health care — as well as other factors that impact overall health. Learn more about this unique program.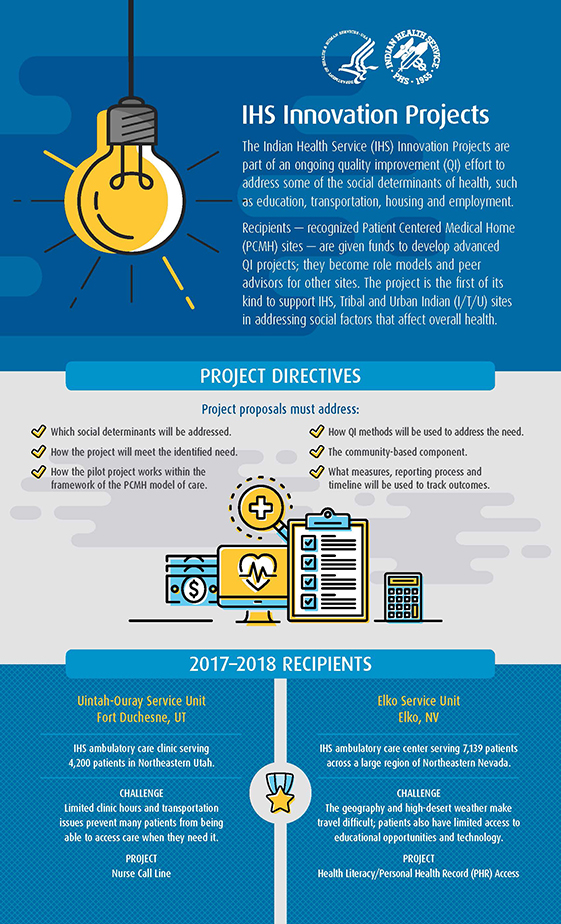 Empanelment Rates
In early April, the Great Plains Area provided IPC — MS training to facilities in its Pine Ridge Service Unit in South Dakota and soon began seeing increases in empanelment rates. This graphic shows changes from April through September 2016 at Pine Ridge Hospital, Kyle Health Center and Wanblee Health Center.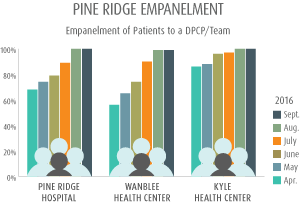 Mammogram Rates
With leadership support, staff members at the Bemidji Area's White Earth Health Center in Ogema, MN, have seen steady improvements in mammogram rates after making two changes: Promoting special days for mammograms and clinical breast exams and reducing administrative time in order to expand the hours screenings are available. The facility is close to meeting the Government Performance and Results Act (GPRA) goal — and expects to meet it nearly six months early!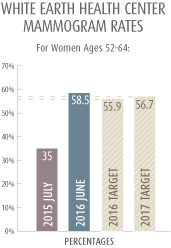 Clinical Access
Participating in IPC has helped staff improve clinical access in the Billings Area's Northern Cheyenne Service Unit, Lame Deer, MT.
In 2006, the number of regular patient appointments was low while the number of walk-in visits was high. A lot of patients avoided regular preventive care, waiting until they were very sick to see a doctor — and then going to the ER.
When the service unit moved to IPC's Patient Centered Medical Home (PCMH) model in 2010 and empaneled the user population to care teams in 2011, those trends started to turn around. Today, many more patients are making appointments for preventive and chronic care and ER visits and walk-in visits have dramatically dropped; walk-in visits were down to 4,892 for the year.