Higher Education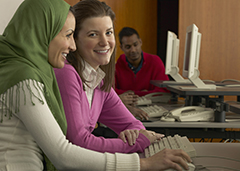 Many colleges and universities offer both bachelor- and master-level degrees in cybersecurity. Before selecting a program, consider its accreditation and how well it meets your needs (career goals, location, subject matter, cost, financial assistance).
To promote higher education in cybersecurity, the NSA and Department of Homeland Security (DHS) teamed up to designate a number of cyber-related educational institutions as National Centers of Academic Excellence (CAE).
Because of the high demand for cybersecurity expertise, many government agencies, colleges/universities, corporations, and private entities offer scholarships for students pursuing an education in cybersecurity. Oftentimes, requirements for these scholarships are minimal: academic achievement, work experience, residency, citizenship, and age limitations among others.
Some scholarships are simple one-time disbursements. Some include stipends for living expenses and provide employment with benefits. Some even include living expenses. Note that some scholarships require a period of work at a specific place, generally no more than the period for which the scholarship provided funding.