Tele-MAT
IHS is committed to improving access to Medication Assisted Treatment (MAT) for Opioid Use Disorder (OUD).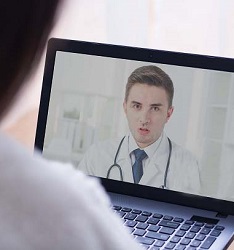 Expanding MAT locations will reduce the time for patients to start their recovery journey, potentially lower the risk of return to drug use and may reduce the potential of death from overdose. Tele-MAT has the ability to expand access to a highly needed service to address OUD in areas and communities where this service has been difficult to establish or maintain.
Prescribing buprenorphine through Tele-MAT programs requires additional training Exit Disclaimer: You Are Leaving www.ihs.gov and special authorization for prescribers Exit Disclaimer: You Are Leaving www.ihs.gov by the Drug Enforcement Agency (DEA). The IHS released Chapter 38, the Internet Eligible Controlled Substance Provider Policy to allow IHS-designated providers to prescribe MAT over telemedicine when the patient is not in the presence of a DEA-registered practitioner and regardless of DEA facility registration status.
Telehealth MAT models require additional coordination, attention, and resources to operate successfully. The Tele-MAT Toolkit [PDF - 460 KB]provides guidance to help providers and facilities establish an integrated Tele-MAT model within the Indian healthcare system. This model is intended for the treatment of OUD with buprenorphine-containing products and naltrexone. It is not intended to provide guidance for methadone treatment models that are restricted to DEA approved Opioid Treatment Programs.
Resources
IHS Announces a New Policy to Expand Access to Medication Assisted Treatment in Remote Locations — IHS Blog, November 2018
MAT Prescribers