Western Oregon Service Unit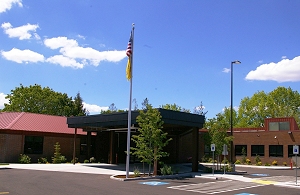 Address
Western Oregon Service Unit
Chemawa Health Center
3750 Chemawa Rd. N.E.
Salem, Oregon 97305
Hours of Operation
Monday: 7:30 am to 5:30 pm
Tuesday: 7:30 am to 5:30 pm
Wednesday: 1:00 pm to 5:30 pm
Thursday: 7:30 am to 5:30 pm
Friday: 7:30 am to 5:00 pm
Clinic is closed all Federal Holidays.
To Schedule an Appointment and Contact Us
Clinic appointments can be scheduled by calling (503) 304-7600, or toll free in Oregon (800) 452-7823. For immediate medical care, same day appointments are available. For immediate dental care, services are available on a walk-in basis.
Who Should I call?
Main Clinic - 503-304-7600
Oregon Toll-Free - 800-452-7823
Dental - 503-304-7631
Optometry - 503-304-7662
Benefits Coordinator - 503-304-7638
Pharmacy Refill Line - 503-856-9001, 503-856-9002
Medical Records Fax Number - 503-304-7677
Chemawa Facebook page Exit Disclaimer: You Are Leaving www.ihs.gov
Chemawa Indian Health Center, founded in 1979, is accredited by the Accreditation Association for Ambulatory Health Care (AAAHC). The health center continually demonstrates a clinic-wide effort to maintain the highest standards of care and to improve the health status of their patients. Chemawa specializes in the promotion of comprehensive family health care for federally recognized American Indian and Alaska Native people and their descendants. The clinic also provides health services for the students at the Chemawa Indian School. Chemawa serves tribal members from over 100 tribes.
A Patient-Centered Primary Care Home in Oregon is a health care clinic that has been recognized for their commitment to patient-centered care. In a Patient-Centered Primary Care Home, you are the most important part of your care. What does this look like for me? Your primary care provider and care team will work with you to improve care coordination that results in higher quality care to you and your family. If you have a special health concern or condition, you will be connected with other health professionals to help you access the care you need. Services provided below:
Medical
Dental
Optometry
Pharmacy
Behavioral Health
Diabetes
Public Health Nursing
Lab
Benefits Coordinator (OHP Application, Veteran healthcare)
Directions
Traveling on I-5 South Take Exit #260B Turn Left on Chemawa Rd. The clinic is located behind Chemawa Indian High School.
Traveling on I-5 North Take Exit #260 Turn Right on Chemawa Rd. The clinic is located behind Chemawa Indian High School.
Local Public Transportation Cherriots Bus Service, Route 11