EMS at IHS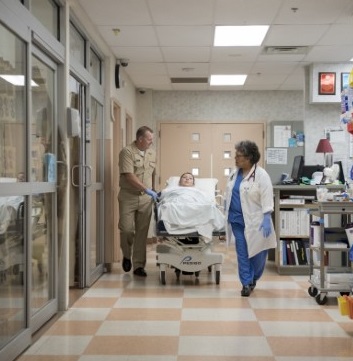 IHS is developing and improving systems that provide EMS to AI/AN people by following emerging national standards while also recognizing the special requirements of the population and areas served.
AI/AN people may receive Emergency Medical Services from a wide variety of providers, including tribal ambulance services, tribal First Responder programs, tribal health departments, tribal fire departments, Community Health Representatives, and tribal hospitals and clinics; IHS ambulance services, IHS Hospitals, and IHS ambulatory care facilities; volunteer members of the public; and governmental or private non-Indian EMS organizations.
Need for EMS in Indian Country
The most common cause of death for all Indian people is heart disease, but for those under age 44, motor vehicle crashes are the leading cause. EMS services are essential to increase patients' odds of survival for both intentional and unintentional injuries. Effectively providing EMS services in rural communities is challenging due to problems caused by resource availability, physical constraints of isolation, sparse population, and land and/or climate extremes. These conditions increase complexity of providing adequate EMS to some AI/AN populations.
Despite difficulties, AI/AN communities have shown interest and commitment to establishing and operating EMS systems. They have turned to IHS and other organizations for medical, technical, and financial leadership to build effective, efficient programs. Each year, IHS and tribal EMS programs make more than 60,000 trips to provide care on reservations, often in rural or frontier areas in extremely remote locations.
IHS EMS System Structure
EMS tasks and responsibilities are handled by the following professionals in each area:
Communicators: EMS Dispatchers
First Responders: Fire, Police, Community Health Representatives, and others
EMS Technicians and Paramedics
Registered Nurses: Emergency Department and Critical Care Units
Physicians: Emergency Medicine and other specialties (e.g., medical, surgical, pediatric, psychiatry, etc.)
EMS Systems Administration: Medical Directors and Program Coordinators