The Indian Health Service continues to work closely with our tribal partners to coordinate a comprehensive public health response to COVID-19. Read the latest info.
Programs
Community Health Representative (CHR)
The Community Health Representative (CHR) program is a unique concept for providing health care, health promotion, and disease prevention services.
Emergency Medical Services
Emergency Medical Services (EMS) is a system that focuses on treating illnesses and injuries that require an urgent medical response. EMS is an intricate system, and each component of this system has an essential role to perform as part of a coordinated and seamless system of emergency medical care.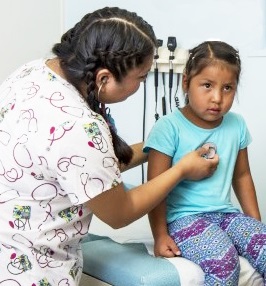 Health Education
The Health Education program aims to educate American Indian and Alaska Native patients, school age children, and communities to empower them to becoming active participants in the improvement of their health status.
Health Promotion/Disease Prevention
The Health Promotion/Disease Prevention focuses on improving health by enhancing preventive efforts at local, regional, and national levels.
Healthy Weight for Life
Healthy Weight for Life promotes healthy weight at all stages of life is critical to improving our health and well-being across the lifespan in American Indian and Alaska Native communities.
Hepatitis C
The focus of the Hepatitis C program is to eliminate new viral hepatitis infections, increase knowledge of hepatitis diagnoses, improve access to high quality health care and curative treatments, and eliminate stigma and discrimination.
HIV/AIDS
The HIV/AIDS program works to prevent new HIV infections and ensure access to quality health services for American Indians and Alaska Natives living with HIV/AIDS.
Maternal and Child Health
The Maternal and Child Health program focuses on improving maternal safety and outcomes through health promotion, risk reduction, and training healthcare professionals to identify and manage early warning signs.
Pharmacy
The Pharmacy program serves as an integral part of a comprehensive community based health care delivery system. Pharmacy services are patient centered and directed toward optimal patient care outcomes, health promotion, and disease prevention. The principal purpose of the pharmacy service is to ensure efficacious, safe, and cost effective medication therapy with appropriate outcomes.