The Indian Health Service continues to work closely with our tribal partners to coordinate a comprehensive public health response to COVID-19. Read the latest info.
Dr. Nathan Mork's Many Roles in Public Dentistry
Dr. Nathan Mork's Many Roles in Public Dentistry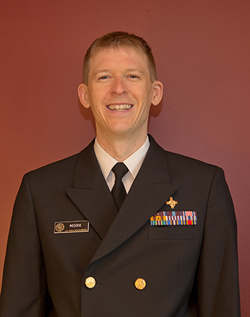 You could say that Dr. Nathan Mork of the United States Public Health Service (USPHS) came to his post as a staff dentist at the IHS White Earth Health Clinic (Bemidji Area) in Ogema, MN, in a very familial way. In fact, you could almost say it was meant to be. Mork's father was the chief dentist at Bemidji's Cass Lake Hospital.
Mork lives in Detroit Lakes, MN, with his wife Alissa, a grant writer, and their two young daughters. He graduated from dental school in 2004 and has been practicing dentistry for 11 years. Mork spent his residency at Hennepin County Medical Center in Minneapolis, after which he started his first IHS stint in Toppenish, WA. He next went to work for the Federal Bureau of Prisons for two and a half years. After he completed his Master of Public Health (MPH) at the University of Washington, in a move to learn more about public health dentistry, Mork decided on a Dental Public Health (DPH) residency at the Centers for Disease Control and Prevention (CDC) in Atlanta. He has been back in Minnesota with the IHS since 2013 at the White Earth Health Clinic.
Mork is something of a rare bird at IHS. He is one of only a handful of clinical dentists with board certification in DPH. "I definitely have a public health mind frame and I try to do the best I can for the most people."
Mork wears many hats at White Earth. In addition to being staff dentist at the health clinic, he's also the Bemidji Area Dental Field Consultant, co-chair of the Early Childhood Caries (ECC) Collaborative and the IHS representative to the USPHS Oral Health Coordinating Committee. However, he's quick to point out that he's able to wear so many hats because of the balance of support he receives from his family, his supervisors and others. "It's not just me who's doing this, it's a group effort."
Mork is especially passionate about the EEC Collaborative. The idea behind the effort is to share best practices between clinics with regard to children's dental care, provide virtual leaning communities for oral health practitioners and host conference calls where dentists can ask questions and discuss policies relating to pediatric dental health.
Among these practices, Mork places great emphasis on working with parents and guardians early on to prevent ECC (cavities in children under the age of six).
"When we look at early childhood caries, there are many concerns. We want to prevent children from losing sleep, missing days of school or having to go to the OR. It's the whole idea of setting them on the right course for good oral health in the years to come."
Mork believes an MPH/DPH offers dentists endless opportunities. For practitioners with this advanced degree, there are many ways to make a difference among medically underserved populations, not only at their own clinic but throughout the Indian health system.
"My MPH/DPH changed my perspective on how I view the world and how I approach problems. A lot of the problems we face in dentistry are multifaceted and require a multi-tiered, problem-solving approach. An MPH/DPH helps to better understand the causes of the disease process. At the community and clinical level, I have been able to help out a lot with models for quality improvement." This includes the Improving Patient Care program's Plan-Do-Study-Act model, which allows clinics to quickly determine whether ideas have value.
Mork credits his degree to helping him understand infection control and how policies and procedures can help make a clinic run safely. "I helped develop an infection-control competency at our dental clinic to ensure that all staff are proficient with infection control processes. At the department/agency level, an MPH/DPH is very helpful to see the 30,000-foot view of how agencies interact to strategically impact the oral health of our nation."
Mork says the key, regardless of degree, "is to seek out challenging opportunities to contribute to IHS Division of Oral Health activities with the ultimate goal of improving the oral health of the American Indian/Alaska Native people."