Division of Oral Health - Patient Resources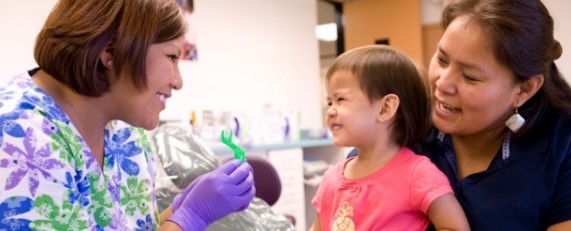 Welcome to the IHS Division of Oral Health Patient Resource webpage. This website is here to help you locate Indian Health Service, Tribal or Urban Indian dental programs and to share online oral health resources. If you have any specific questions about your own oral health, please contact a dental clinic near you.
Locate a Dental Clinic
IHS Find Health Care - Find an Indian Health Service, Tribal or Urban Indian Dental Program near you by searching for hospitals, health centers, and dental clinics. Please note that within this search program, most dental programs are listed as health centers and hospitals, because the dental clinics are located within these facilities. Please contact the facility to ensure that they have a dental program.
Oral Health Education Materials
Browse these patient education materials* to learn more about how to keep a healthy mouth. By keeping your mouth healthy, you are also helping your overall health. We encourage you to talk with your dental provider about your oral health and how to maintain a healthy mouth.
Children and Pregnant Women
Adults
General Information
*Developed by the Albuquerque Area Dental Support Center at NAPPR, Inc.
Oral Health Online Resources
The National Institutes of Health (NIH) has a variety of oral health patient materials that are free to download. Please select from the following topics to learn more:
The Centers for Disease and Prevention (CDC) has the following frequently asked questions (FAQs) about dental sealants – thin coatings painted on teeth: