The Indian Health Service continues to work closely with our tribal partners to coordinate a comprehensive public health response to COVID-19. Read the latest info.
He Sought Adventure and Found a Calling
He Sought Adventure and Found a Calling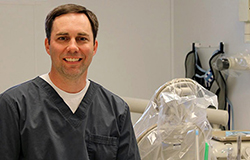 LCDR Brian Talley, DMD
The pediatrics specialist divides his time
among three Tribal clinics on the border of
Colorado and New Mexico.
After finishing dental school at the University of Mississippi in 2002, LCDR Brian Talley, DMD, could have returned to his hometown of Pascagoula, MS, to work in private practice. "But there wasn't much adventure in that," he says.
So he joined IHS as an officer in the US Public Health Service (USPHS) Commissioned Corps, which he says has pay and benefits similar to the active duty military, "but you serve a truly underserved population within the geographic borders of the United States."
Dr. Talley says he first heard about IHS from a couple of visiting dental school alums serving in Montana. A presentation from the current IHS Division of Oral Health (DOH) Director inspired him to broaden his horizons.
"I decided the world is bigger than Mississippi and the South, so I wanted to take the path a little bit less traveled," he says. And at a time when many students' college debt load is "ridiculously high," the IHS Loan Repayment Program is also a powerful incentive, he adds.
After signing up, he started out in Northwest Montana, where he didn't know a soul. "I looked at the map and said, 'That would be a good opportunity.'" His wife, Karen, a surgical nurse, was open to the idea, "so we buckled up and went for an adventure while we readily could."
After three years on the Flathead Indian Reservation in Montana, he served as a general dentist on the Southern Ute Reservation in Ignacio, CO, and then spent two years in pediatric training at Children's Hospital Colorado. He returned to IHS last year as a pediatric specialist, again in the Commissioned Corps.
"At IHS, the majority of patients I saw were children, because in Indian communities, dental caries is so prevalent," he says. "I found a lot of reward in taking children who might have been really scared and working to make them less nervous. Pediatric dentistry also lets me be a little more laid back, goofy and jovial… that seemed to suit my personality better than being serious all the time."
Dr. Talley divides his time among the clinics of the Jicarilla Apache in Dulce, NM; the Southern Ute in Ignacio, CO; and the Ute Mountain Ute in Tawaoc, CO. The three Tribes share costs for his position — which didn't exist until he inquired about whether there might be an interest. "As soon as I sent the email, I got a reply that read: 'Are you kidding? Of course!'" he says.
The nearest clinic is 30 minutes from his home in Durango, CO, the farthest is two hours away, which means four hours of driving some days. But he and his wife now have a 5-year-old son and a 3-year-old daughter and he wanted to be home to tuck them in every night. "I didn't want to be away from them," he says.
Experience with adult patients fearful of dentists convinced Dr. Talley that working with children was a good way to prevent dental anxiety in the future. "I would have grownups who would wait until the eleventh hour to see a dentist because they were scared. I would say 'I could have saved that tooth or prevented that pain,' but they all described bad experiences with a dentist when they were kids.
"That solidified my decision" to specialize in pediatrics, he says. "What can I do to make it different or better than the dentists in their stories?"