IHS EDR Project Manager Jim Webb Talks Dental Tech
IHS EDR Project Manager Jim Webb Talks Dental Tech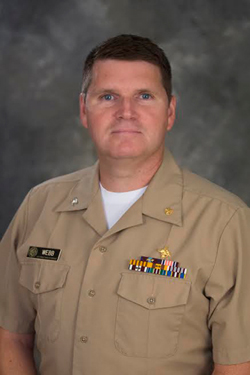 Indian Health Service (IHS) Electronic Dental Record (EDR) Project Manager Dr. James Webb, a captain in the United States Public Health Service (USPHS) Commissioned Corps, graduated from dental school at Chicago's Northwestern University in 1992. He learned about Indian health dental careers through a classmate who attended an IHS Division of Oral Health (DOH) "Lunch and Learn" program. Lucky for IHS, Webb has always been a techie, so the agency unknowingly got a two-for-one deal with this clinician: a dentist with a real predilection for useful technology.
After leaving for a short while to work in private practice for two years, Webb came back for his second stint with IHS in Minnesota, citing that he and his wife enjoyed the lifestyle afforded to them through working for IHS. He's since worked for IHS in San Carlos, AZ and now practices at IHS' Phoenix Indian Medical Center. He accepted the position of Project Manager for the IHS EDR in October of 2014. The EDR is the brainchild of Dr. George Chiarchiaro, who Webb refers to as "a visionary." Dr. Chiarchiaro began work on the EDR in the early 1990s; today it has developed into what Webb describes as "a fully functional method of managing our dental patient data."
The EDR is the sum of four parts: Dentrix Enterprise (dental office management software); DEXIS (dental imaging management software); IHS' Resource and Patient Management System (RPMS); and the interface originally developed by Dr. Chiarchiaro, which integrates them all together. IHS first began using the 4.0 version and has progressed to 7.0; an updated 8.05 version of the EDR is expected to launch soon. The EDR that uses Dentrix was first installed at IHS facilities eight years ago; today 180 dental sites have the software. It is hoped that by 2018, all 230 sites that use RPMS will have installed Dentrix.
Though Dentrix is the main vehicle driving the EDR, DEXIS, the imaging portion of the equation, can't be understated either because it allows for digital X-ray capabilities. Phoenix Indian Medical Center features two types of digital panorex X-ray machines: a standard 2-D version and one that uses a cone beam, or 3-D, technology. The 3-D X-ray allows dentists to manipulate 3-D images to fit within the size of an X-ray beam. To help with one difficult surgery, Webb used a 3-D printer to print an image that was later turned into an actual 3-D model. "It was easier to demonstrate and manipulate in your hand — literally — the patient's jaw."
With new technologies, tiny 1-inch by 1-inch X-rays turn into 24-inch vistas. "When you go to digital X-rays, you can never go back."
One unique thing about Webb is that he's in a position to practice what he preaches.
"Being an end-user of the software that I'm responsible for deploying is a huge benefit. I get to see where the rubber meets the road. As a practitioner, I also have to live with the decisions that we make regarding the software," Webb explains. "I've been using it for a year and a half and I find that experience invaluable."
The advantages of EDR are data collection and data sharing. For instance, when a patient seeks treatment outside of his or her home clinic, each clinic installed with the EDR will have access to the patient's dental (and medical) history through RPMS. Another advantage of the EDR one might not consider is that now doctors' notes are legible, which wasn't always the case beforehand. The EDR also allows for a backup; paper charts generally don't have copies. Webb is thankful for the level of support those implementing the EDR have received from IHS.
"None of this would have ever been able to happen without leadership at the national level."
What's more, not only does sending digital files through a secured email provider safeguard patient information, it makes the information more portable, a part of the act Webb doesn't believe garners as much attention. "That's really what HIPAA stands for. I think that sometimes gets lost in the translation."
In fact, all EDR benefits fall under the larger Improving Patient Care (IPC) umbrella.
Webb believes that the new dental technologies are "leveling the playing field between private practice and public health.
We have every bit as much up-to-date technology as private practice does. There's no longer that technological divide between private practice and public health."
In the future, Webb sees dental imaging and resolutions getting sharper and IHS trending toward bonded restorations in lieu of silver fillings. He also predicts a cloud-based centralized repository for data.
You can be sure whatever language it's in, Dr. Webb will keep an eye out for any and all emerging dental technology for IHS.