Pediatric Dentist Educates, Advocates for Children and Families
Pediatric Dentist Educates, Advocates for Children and Families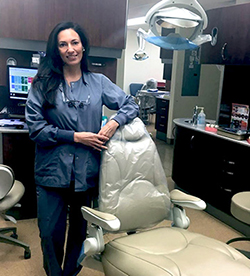 Dr. Katrina Naasz, DDS
Pediatric Dentist, Phoenix Indian Medical
Center
When she was growing up in Englewood, CO, Katrina Naasz, DDS, never thought she would go to college — she was one of five sisters and she knew her parents couldn't pay for a higher education. She worked as a bank teller and served as a dental assistant for six years.
She couldn't imagine that she would end up graduating not just from college, but from dental school (in 2003) and becoming one of a small number of American Indian woman dentists.
Having recently completed a two-year specialization in pediatric dentistry, she has spent a total of 22 years in school — something she once would have considered "crazy," says Dr. Naasz, 46.
But it's been worth it: "I am very passionate about my new role as a pediatric dentist and feel it is my duty to be an educator and advocate for the child and the family," she says. "It's not just about the teeth, it's about the child as a whole."
From 2008 to 2013, Dr. Naasz was clinic chief at the Salt River Indian Community in Scottsdale, AZ, a satellite facility of the Phoenix Indian Medical Center. Now she's a pediatric dentist at the main clinic, a 19-chair state-of-the-art facility.
She got her first hint that her niche was working with children during her six years as a dental assistant for Paul Hayes, DDS, a "friend and mentor" who saw her potential and ability to make children feel comfortable. He encouraged her to go to college; when she cited the cost, he reminded her, "You're Native American — there's funding for you."
Dr. Naasz didn't grow up on a reservation. But her mother, who is Navajo and Pueblo, had told her about Tribal scholarships. She applied and received the Navajo Nation Manuelito Scholarship at age 25 and earned a bachelor's degree in biology. This began her path toward dentistry. Upon learning IHS would pay for dental school in return for a service commitment, she didn't hesitate. At 29, she started dental school at the University of Colorado Health Sciences Center.
During her final two years of dental school, missions with a mobile unit in Bucharest, Romania, and in the jungle of Veracruz, Mexico, confirmed her call to serve children in need. On the Mexico trip, there were no clinics or reclining dental chairs: "They just sat outside with their heads back. It was humid, hot and strenuous on everyone — but very rewarding at the end of the day."
Her first IHS assignment was at the Santa Fe Indian Hospital, where she spent a year and a half practicing general dentistry. A long-distance relationship prompted her transfer in 2005 to Salt River, where she was a general dentist for three years before becoming clinic chief.
After completing advanced training at the Las Vegas School of Dental Medicine, Dr. Naasz knew she wanted to return to Phoenix but IHS had no position available. So she waited, working locally for about six months. "I got to experience private practice — and I knew my heart was with public health," she says. "You've got to know what you want."
The need for dentists in Native communities couldn't be greater. American Indian/Alaska Native preschool children have the highest level [PDF - 630KB] of tooth decay of any population group in the United States — more than four times higher than white non-Hispanic children. Also, 83 percent [PDF - 535] of AI/AN children between the ages of 6 and 9 have a history of decay in their primary or permanent teeth, compared to 45 percent of children in the general population.
The number of American Indians and Alaska Natives in dentistry is still very small: of the 25,421 graduates from US dental schools since 2006, only 111 are Indians and just 44 of those are women, according to the American Dental Education Association Exit Disclaimer: You Are Leaving www.ihs.gov .
Today, Dr. Naasz speaks to local students about Indian health careers and opportunities for scholarships and loan repayment through IHS. "This is Indian country. There's a large Native American population throughout the city. We're getting the word out whether they're in high school or undergrad."
In fact, she tells them she had no desire to move on after fulfilling her service commitment. "I loved my four years and wanted to stay," she says.
"It's not just about the teeth, it's about the child as a whole."