The Indian Health Service continues to work closely with our tribal partners to coordinate a comprehensive public health response to COVID-19. Read the latest info.
Prevention and Progress
Prevention and Progress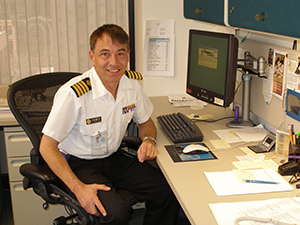 Dan Huber, USPHS Commissioned Corps CAPT
and Phoenix Area Dental Consultant
Dental Consultant Dan Huber Brings 28 Years of Experience and Care to the Phoenix Area
As the Area Dental Consultant for IHS' Phoenix Area, Dan Huber supports dental chiefs and staff at more than 15 locations in Nevada, Utah and Arizona.
Huber, a Quinault Tribe member and IHS Scholarship Program recipient, started working for IHS 28 years ago. Though he initially thought he would stay with IHS long enough to fulfill his service commitment, Huber says continued opportunities for professional growth and development encouraged him to continue his career at IHS.
Huber is a member of the US Public Health Service (USPHS) Commissioned Corps and was promoted to Captain in 2004. He lives in Phoenix with his wife, Lori, and two sons, Alex and Michael. The two met when Lori, a dental hygienist, was completing an externship at Gallup Indian Medical Center as part of a rotation through Northern Arizona University.
After attending dental school in Portland, OR, Huber started working at IHS as a staff dental officer in Pine Ridge, SD, where he treated patients at the Pine Ridge Indian Hospital and at the Manderson/Wounded Knee satellite clinic. At the clinic, he focused on pediatric dentistry and helped establish dental programs for children in the local school and Head Start program. He says a main focus was putting dental sealants on the permanent molars of his 6- and 12-year-old patients.
"Coming out of dental school, what surprised me about the work in Pine Ridge was the amount of tooth decay," Huber explains. "I did the same amount of work during my first week at Pine Ridge that I did during my junior year of dental school because the needs were so high and there were so many dental caries."
When he became Director of the dental clinic at the Tohatchi Health Care Center near Gallup, NM, Huber continued to set up educational and preventive care initiatives in a number of local schools, facilities and Head Start programs.
In 1992, he took part in a two-year advanced general practice residence with financial support from IHS before becoming deputy chief of the Phoenix Service Unit Dental Program at the Phoenix Indian Medical Center. In 2006, he was selected for his current position of Area Dental Consultant. As a consultant, Huber helps clinics troubleshoot and find new strategies for tackling challenges in planning, recruitment, prevention programs and other issues.
He now spends half a day a week practicing at the Phoenix Indian Medical Center and the other four and a half days at the Phoenix Area office as a consultant. His major initiatives include the implementation of electronic dental records (EDR) and digital radiography in all clinics in the Phoenix Area. Common areas he addresses to improve efficiency also include scheduling, assisting new Dental Directors with management questions and finding strategies to address specific challenges each program may have.
Huber also works closely with Dental Directors to ensure they follow the IHS Oral Health Program Guide, a dental procedural manual that identifies tools and resources to manage clinical and community programs.
As part of the Phoenix Area office, Huber provides assistance to the recently formed Arizona American Indian Oral Health Initiative (AAIOHI), a Tribally run organization focused on oral health; specifically early childhood programs. The initiative aims to involve Tribes, Urban Indian Programs and other stakeholders in how prevention programs are run. The group works with the State Health Department and non-governmental organizations to apply for grants to provide preventive education and health literature.
According to Huber, AAIOHI puts people together in one room and it brings the community and the clinic closer together. "We want to see it succeed and we're glad to see communities wanting to take the lead."
Huber admits that overall, a high need for dental care is a great challenge. While in a typical US population there may be one dentist for 1,500 people, Huber says a ratio of one dentist to 3,000 or even 5,000 people is more common in the communities he serves. "In addition to serving more people, there is a higher rate of disease," he adds. "The goal of IHS is to improve access to care for the population it serves and recruiting more dentists will help it reach this goal."