A Seamless Transition to an Indian Health Dental Career
A Seamless Transition to an Indian Health Dental Career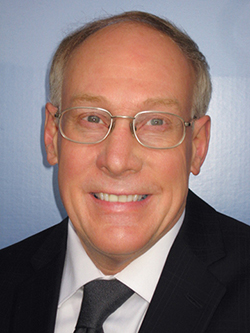 Dr. Joel Knutson's new role as Supervisory Dental Officer at the Red Lake IHS Hospital Dental Clinic in Red Lake, MN, might seem like a world of difference from his lengthy, far-reaching military career.
Knutson, who spent 11 years in private dental practice and 26 years of active duty service in the Air Force and Army, including several terms overseas at duty stations in Japan and Korea — found that, at age 62, he had more to give. And in many ways, his post-military retirement job at IHS has proved the venerable dentist's greatest, most profound professional adventure yet.
Knutson's role at Red Lake has brought him full circle, too, because it marks his return to on-the-ground dentistry and has immersed him back into the small town way of life. The fact that the clinic is nearby to his home and family only sweetens the deal.
The IHS Hospital located on the Red Lake Reservation — home to one of seven bands of Chippewa Indians and known for its serene natural beauty, intense winters and robust walleye fishing industry — offers 11 dental chairs staffed by three full-time dentists, one part-time dentist, two full-time dental hygienists and five dental assistants, along with weekly visits from a pediatric dentist.
"Indian Health Service clinics," says Knutson, "are places where each individual has a tremendous ability to help."
In many ways, Knutson's military life provided the perfect preparation for his work at Red Lake. Knutson's military knack for efficiencies, processes and procedures has set in motion some key changes in the way the team at Red Lake ensures patient access to care.
Take, for instance, the clinic's protocol surrounding scheduled appointments. Knutson and his team implemented phone reminders and immediately scheduled follow-up visits for preventative care. These improvements have reduced the number of missed appointments by nearly 20 percent. The dental clinic has also employed recent facility and staffing upgrades, which have made a positive impact on operations, staff morale and patient access.
Such changes are heartening. So is the fact that Red Lake Reservation feels very much like home and that Knutson and his colleagues have established bonds with their patients through respect and consistent quality of care.
"Preventive or basic restorative work is always our objective," says Knutson, adding that the Red Lake team also reserves time for working with patients in need of urgent care (extractions, incisions and drainage and root canals).
Cavity prevention is a significant concern, particularly among Native youth. In addition to weekly visits to the Red Lake clinic by a pediatric dentist, students enrolled in the reservation's six Head Start, preschool, elementary and middle schools have access to oral hygiene programs (exams and sealants) via school-based satellite clinics.
"At IHS, we have to work through education to change motivation," he says. "It's a challenge, but not impossible. We're working to improve the health of the population — not just the dental health but their overall health as well."
Meanwhile, Knutson understands that the way to persuade patients to practice good oral hygiene at Red Lake isn't through mandate or regulation, as it often was in the military. Instead, he realizes that his work affords him a special opportunity to bring dental care the old-fashioned way — through compassionate care and education.
"Although I've been in transition for most of my life, I think I'm very well suited for this work, given that I've been in private practice and experienced the military clinic scenario. Here, I see the whole spectrum of patients and needs. And it really is true that you can have an impact no matter where you go."