Find the Carbs
Find the Carbohydrates on My Native Plate
For use with Carbohydrates by Color Fact Sheet
Knowing which foods have carbohydrates (carbs) is one of the first steps to choosing healthy foods. Use the four plates shown to practice finding carbs.
(See answers below.)
Find the grains and starches using the color shades of white, brown, and colored foods on the plates.
Find the other brightly colored carbs. (Hint, they are naturally sweet.)
Find the foods that have low carbs or no carbs.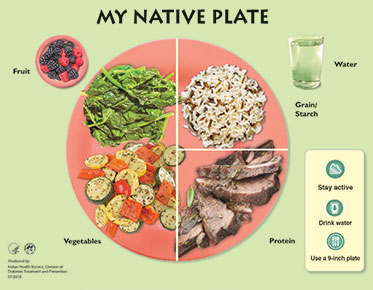 Helpful Tips
Try choosing healthier carbs for meals and snacks. Balance the carbs you eat throughout the day.
Eating the right kinds and amounts of carbs can help with blood sugar control.
For more on understanding carbohydrates:

Visit a Dietitian or Diabetes Care Specialist for an eating plan specifically for you. They can help you learn how many carbs are right for you.
This worksheet is a companion material to the Carbohydrates by Color fact sheet.
Answers to finding the carbs on My Native Plate
Answer: rice, tortilla, hamburger bun, cornbread
Answer: berries, apple slices, canned peaches
Answer: meat, egg, non-starchy vegetables: salad, carrots, celery, tomato, zucchini, and greens