Healthy Eating on a Budget
Healthy Eating on a Budget
Diabetes Information for You and Your Family
Did you know?
Healthy eating is an important part of managing diabetes. Eating healthy doesn't mean you need to buy costly foods. Many of the foods you already prepare for yourself and your family are healthy.
What are healthy foods?
Foods in a more natural state
Fresh, grown, and gathered foods
Foods low in sodium and added sugars
Fruits and vegetables—fresh, frozen, or canned

Examples include: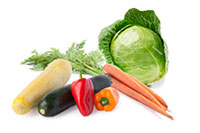 Vegetables:
Carrots, leafy greens, peppers, squash, onions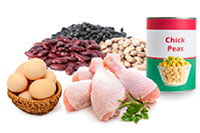 Proteins:
Beans, eggs, meat, fish, poultry, nuts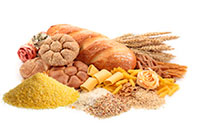 Whole Grains:
Whole grain corn meal, bread and pasta, wild and brown rice, oats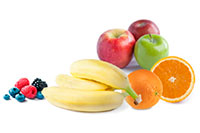 Fruits:
Apples, bananas, oranges, berries
Ways you can eat healthy and save money
Plan your meals
Think about the foods that your family enjoys. Start planning with one meal, such as dinner.
Start by writing your meal ideas down
Consider using a Weekly Meal Plan.

Plan easy-to-make meals for when you won't have a lot of time.
Make a grocery list
Keep an ongoing list of foods you need.
Check to see which foods you have on hand.
Limit adding costly processed foods such as chips, cookies, donuts, soda pop, and packaged meals.
Plan your shopping trip
Take a freezer bag or cooler if you are far from home.
Check the store ads for sales. Join the store's loyalty program for offers and discounts.
Eat before you shop. It helps you stick to your list.
Save money while you shop
Look for in-store markdowns.
Buy store brands. They taste similar to name brands, but cost less.
Buy fruits and vegetables in season. See - Seasonal Produce Guide.
Cook at home
Eat healthier and save money by cooking at home.
Cook traditional foods with family to celebrate culture.
Helpful Tips
Buy healthy foods in bulk. Divide into servings and store.
Rinse canned vegetables to remove added salt.
Frozen and canned vegetables are easy to add to meals.
Getting enough healthy foods
Sometimes it may be hard to get enough healthy food. Consider a family garden, joining a community garden, hunting, or gathering what you can from the land and water.
Learn about nutrition assistance programs. Your healthcare team may know about food support options such as:
Food pantries and/or farmer's markets.
USDA National Hunger Hotline:
1-866-3-HUNGRY (1-866-348-6479)
Healthy Recipes
Get Fresh! Cooking Exit Disclaimer: You Are Leaving www.ihs.gov – Recipes from the Chickasaw Nation and USDA.
MyPlate Kitchen Recipes Exit Disclaimer: You Are Leaving www.ihs.gov – Videos, seasonal recipes, food safety and more. Diabetes Food Hub Diabetes– Friendly recipes from the American Diabetes Association.
Spend Smart-Eat Smart Exit Disclaimer: You Are Leaving www.ihs.gov – Ways to cut food costs. Iowa State University Extension & USDA.
Sample Grocery List
Vegetables
Fruits
Wild or brown rice
Whole grain cereals and breads
Eggs
Beans
Chicken or turkey
Fish
Beef or Pork – leaner cuts: round and loin