The Indian Health Service continues to work closely with our tribal partners to coordinate a comprehensive public health response to COVID-19. Read the latest info.
Education Materials and Resources (Online Catalog)
Product Details
Eagle Book Series - Animated Version DVD
Animated DVD version of the set of 4 Eagle Books for pre-school through grade school children, beautifully illustrated and narrated with Native American characters and wise animals. This DVD inspires and encourages young ones to find joy in physical activity, eating healthy foods, and learning about health and diabetes prevention. A teachers guide entitled The Eagle Book Series: A Guide for
Educators and Communities is also available on the catalog.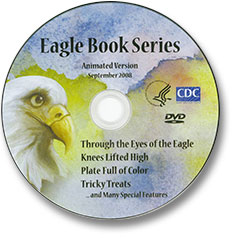 Format:
DVD
Audience:
Youth, Youth Educators
Topic:
Diabetes Prevention, Eagle Book Series
You might also be interested in: