The Indian Health Service continues to work closely with our tribal partners to coordinate a comprehensive public health response to COVID-19. Read the latest info.
Education Materials and Resources (Online Catalog)
Product Details
Keeping Your Heart Healthy
1-page, easy-to-read tip sheet on ways clients can keep their heart healthy. Includes ideas for lowering chances of having heart disease and working with their health care team to take care of their hearts.

Options:

Order tear-off pad of 50 sheets
Self-print
Download Now!
[PDF – 296 KB]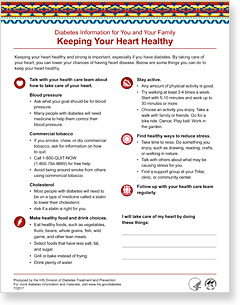 Format:
Self-print, Tear-off Pad
Audience:
Health Care Professionals, Patients/Clients, Program Staff
Topic:
Heart