The Indian Health Service continues to work closely with our tribal partners to coordinate a comprehensive public health response to COVID-19. Read the latest info.
Education Materials and Resources (Online Catalog)
Product Details
DETS Curriculum: A Balancing Act: Preventing Diabetes (Grades 7-8, Science)
226-page curriculum (fifth of a 7-volume set) for grades 7-8 focusing on Science. Goals of this curriculum is to increase individual, community, scientific knowledge of health, and diabetes by maintaining life in balance.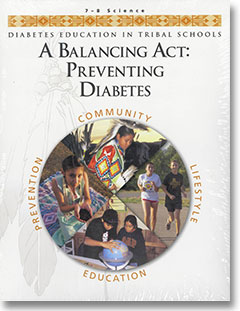 Format:
Curriculum
Audience:
Youth Educators
Topic:
DETS, Diabetes Prevention