The Indian Health Service continues to work closely with our tribal partners to coordinate a comprehensive public health response to COVID-19. Read the latest info.
Education Materials and Resources (Online Catalog)
Product Details
Eagle Book Series: A Guide for Educators and Communities
60 page Guide on how to use the set of 4 Eagle Books for cultural, physical, and nutritional activities.  The activities, designed for classrooms (Head Start through 4th grade) and other community sites (e.g., home, libraries, community centers), are organized into five areas - storytelling, Native American culture and health, learning about healthy foods, participating in physical activity and diabetes prevention.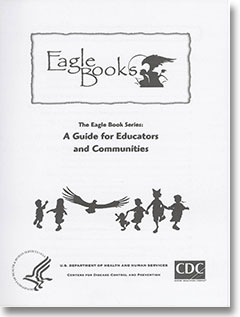 Format:
Guide/Manual
Audience:
Youth Educators
Topic:
Behavioral Health, Diabetes Prevention, Eagle Book Series