The Indian Health Service continues to work closely with our tribal partners to coordinate a comprehensive public health response to COVID-19. Read the latest info.
Education Materials and Resources (Online Catalog)
Product Details
Hummingbird's Squash
394-page novel for preteens and teens, Hummingbird's Squash continues the story of the Coyote and The Turtle's Dream characters which originated from the set of 4 Eagle Books. In this book, Hummingbird pursues an ambitious plan to grow healthy foods that will help the community prevent type 2 diabetes. As the book progresses, she learns what it means to embrace all of one's relatives and honor the wisdom of ancestors. Features captivating drawings and a glossary.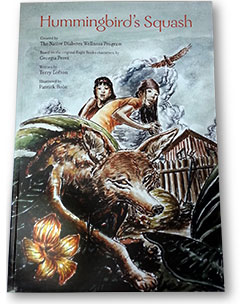 Format:
Book
Audience:
Patients/Clients, Youth, Youth Educators
Topic:
Behavioral Health, Diabetes Prevention, Eagle Book Series, Nutrition
You might also be interested in: