The Indian Health Service continues to work closely with our tribal partners to coordinate a comprehensive public health response to COVID-19. Read the latest info.
Education Materials and Resources (Online Catalog)
Product Details
The Trickster of Two Rabbit Mountain
369-page novel is the third of a trilogy, for preteens and teens. It continues the story of Rain, Boomer, Hummingbird and Simon, as they venture to a southern Indian reservation. Readers meet two new characters, Sigigi, a young man of the "Little People," and "the Two Rabbit," a comical storyteller. The story reinforces health messages from the first two novels. It also encourages readers to appreciate the benefits and challenges of learning another language.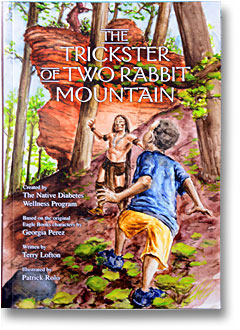 Format:
Book
Audience:
Youth, Youth Educators
Topic:
Diabetes Prevention
You might also be interested in: