The Indian Health Service continues to work closely with our tribal partners to coordinate a comprehensive public health response to COVID-19. Read the latest info.
Education Materials and Resources (Online Catalog)
Product Details
Using Our Wit and Wisdom to Live Well with Diabetes – Updated 2017
This is a 151-page, full-color book written by Barbara Mora (Paiute/Diné). Barbara describes her emotional journey with diabetes through a cultural perspective. She also shares her struggle with denial and depression before learning how to take care of herself and her diabetes, helping her to live a joyful life. A must-read for those living with diabetes, their family members or support system, and health care providers wanting to better understand the emotional impact of having diabetes.

If you are hosting a class or event for American Indian/Alaska Native people and would like to request more than the posted quantity limit, please call 1-844-447-3387 or email diabetesprogram@ihs.gov.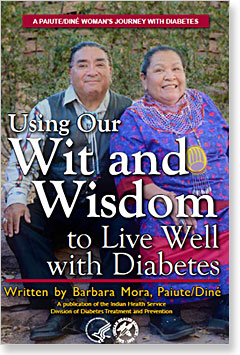 Format:
Book
Audience:
Elders, Health Care Professionals, Patients/Clients, Program Staff
Topic:
Behavioral Health, General Diabetes
You might also be interested in: