The Indian Health Service continues to work closely with our tribal partners to coordinate a comprehensive public health response to COVID-19. Read the latest info.
Education Materials and Resources (Online Catalog)
Product Details
Keeping Your Teeth and Gums Healthy (Tear-off Pad and Self-print)
This one-page education handout describes why it is important to manage your blood sugar and take care of your teeth and gums.

Options:

Order tear-off pad of 50 sheets
Self-print using 8½ x 11 paper
Download Now!
[PDF – 605 KB]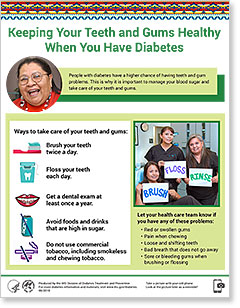 Format:
Self-print, Tear-off Pad
Audience:
Health Care Professionals, Patients/Clients, Program Staff
Topic:
General Diabetes, Teeth
You might also be interested in: