The Indian Health Service continues to work closely with our tribal partners to coordinate a comprehensive public health response to COVID-19. Read the latest info.
Education Materials and Resources (Online Catalog)
Product Details
A River Runs Through Us 90-Day Journal for Wellness – Updated 2020
This 256-page full-color journal features photos and quotes from Tribal community members. It includes daily messages, a section to identify feelings and thoughts, and a place to track your self-care activities on your wellness journey. Let the words inside you be your guide to good health of mind, body, and spirit.

If you are hosting a class or event for American Indian/Alaska Native people and would like to request more than the posted quantity limit, please call 1-844-447-3387 or email diabetesprogram@ihs.gov.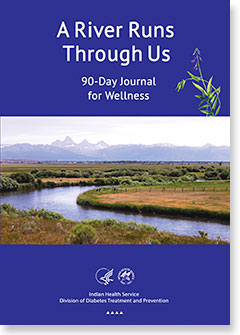 Format:
Book
Audience:
Elders, Health Care Professionals, Patients/Clients, Program Staff
Topic:
Behavioral Health, General Diabetes
You might also be interested in: