Diabetes Online CME/CE Education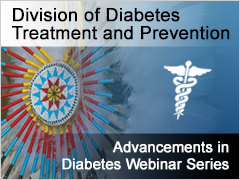 Earn free CME/CE by attending our live clinical training webinars. In each one-hour webinar, experts present what's new on diabetes-related topics and describe practical tools to use in your practice. Training is intended for physicians, nurse practitioners, physician assistants, nurses, dentists, dietitians, diabetes program coordinators, and other health care professionals.
Accredited Providers of CME/CE: IHS Clinical Support Center, IHS Nutrition and Dietetics Training Program, and IHS Division of Oral Health.
Note: Most live webinars are recorded and offer CME/CE credit.
Next Live Free CME/CE Webinar
Topic:

Link Between Historical Trauma and Health Outcomes for Native Americans

Date:

Wednesday, April 5, 2023

Time:

3pm EST / 2pm CST / 1pm MST / 12pm PST / 11am AKST

Add to Calendar:

Presenters:

Tami DeCoteau, PhD
Licensed Clinical Psychologist
DeCoteau Trauma-Informed Care & Practice, PLLC

Credit offered:

1 hour of CME/CE/CPEU/CPE/CDE

Duration:

1 hour

Registration:

Not required. Use the Join Webinar button at the time of the webinar to join.

Questions:

Contact the Clinical Training Team for any questions.


Join Webinar



Information about the webinar presentation:
This presentation is designed to help attendees understand how trauma, including genocidal policies such as boarding school and intergenerational trauma can affect the health of Native people today. How the body responds to trauma can have long lasting effects on the individuals, including chronic diseases such as diabetes. Similarly, developing brain resiliency can buffer against the negative effects of traumatic experiences. The presenter will discuss strategies for developing resiliency from both modern and traditional perspectives.
Save the Dates for Live CME/CE Sessions
Unless otherwise specified:
All training begins at 3pm ET / 2pm CT / 1pm MT / 12pm PT / 11am AKT
Offer 1 hour of ACCME, ACPE, ANCC, CDR, CDE credit*
Date
Topic
Presenter(s)
Add to Calendar
Wednesday,
April 12, 2023
Ophthalmic Manifestations of Diabetes
William Lee Thibodeaux, OD, FAAO
GIMC Eye Clinic Chief
Alicia Thibodeaux, OD, FAAO
GIMC Eye Clinic Residency Coordinator, IHS Optometry Residency Coordinator

[ICS – 7 KB]

Wednesday,
May 3, 2023
Glycemic Control Treatment Methods
Richard Arakaki, MD
Endocrinologist and Professor Emeritus-
University of Hawaii
DDTP Clinical Consultant

[ICS – 7 KB]

Wednesday,
May 31, 2023
Cultural Dietary Practices Developed from Ancestral-inspired Menus
Valerie Segrest, MA
Muckleshoot Indian Tribe
Cofounder, Tahoma Peak Solutions

[ICS – 7 KB]
*ACCME (Medical), ACPE (Pharmacy), ANCC (Nursing), CDR (Dietitian), and CDE (Dental)