Diabetes Online CME/CE Education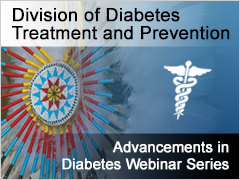 Earn free CME/CE by attending our live clinical training webinars. In each one-hour webinar, experts present what's new on diabetes-related topics and describe practical tools to use in your practice. Training is intended for physicians, nurse practitioners, physician assistants, nurses, dentists, dietitians, diabetes program coordinators, and other health care professionals.
Accredited Providers of CME/CE: IHS Clinical Support Center, IHS Nutrition and Dietetics Training Program, and IHS Division of Oral Health.
Note: Most live webinars are recorded and offer CME/CE credit.
Next Live Free CME/CE Webinar
Topic:

Mindful Exercise in Health and Disease: The Science (Part 1)

Date:

Wednesday, December 6, 2023

Time:

3pm ET / 2pm CT / 1pm MT / 12pm PT / 11am AKT

Add to Calendar:

Presenter:

Ralph La Forge, MSc, FNLA
Clinical Exercise Physiologist
Clinical Lipid Specialist
Duke University Endocrine Division

Credit offered:

1 hour of ACCME, ACPE, ANCC, CDR

Duration:

1 hour

Registration:

Not required. Use the Join Webinar button at the time of the webinar to join.

Questions:

Contact the Clinical Training Team for any questions.


Join Webinar



Information about the webinar presentation:
This presentation is part of a two-webinar series that will explore the purpose, supportive science, and application of mindful exercise practices in primary and secondary prevention of chronic health conditions, such as diabetes.
---
Save the Dates for Live CME/CE Sessions
Unless otherwise specified:
All training begins at 3pm ET / 2pm CT / 1pm MT / 12pm PT / 11am AKT
Offer 1 hour of ACCME, ACPE, ANCC, CDR credit*
Date
Topic
Presenter(s)
Add to Calendar
Wednesday,
December 20, 2023
Holiday Eating with Diabetes
Stacy Hammer, MPH (C), RDN, LD
National Nutrition Consultant
Division of Diabetes Treatment and Prevention (DDTP)
Office of Clinical & Preventive Services
Indian Health Service

[ICS – 7 KB]

Wednesday,
January 10, 2024
Mindful Exercise in Health and Disease: The Practice (Part 2)
Ralph La Forge, MSc, FNLA
Clinical Exercise Physiologist
Clinical Lipid Specialist
Duke University Endocrine Division

[ICS – 7 KB]

Wednesday,
January 25, 2024
Better Understanding of the Role of a Healthy Lifestyle on Cardio-Metabolic Health
Amanda M. Fretts, PhD MPH
Associate Professor
Department of Epidemiology
Cardiovascular Health Research Unit
University of Washington School of Public Health

[ICS – 7 KB]
*ACCME (Medical), ACPE (Pharmacy), ANCC (Nursing), and CDR (Dietitian)