The Indian Health Service continues to work closely with our tribal partners to coordinate a comprehensive public health response to COVID-19. Read the latest info.
Diabetes Online CME/CE Education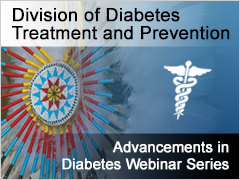 Earn free CME/CE by attending our live clinical training webinars. In each one-hour webinar, experts present what's new on diabetes-related topics and describe practical tools to use in your practice. Training is intended for physicians, nurse practitioners, physician assistants, nurses, dentists, dietitians, diabetes program coordinators, and other health care professionals.
Accredited Providers of CME/CE: IHS Clinical Support Center, IHS Nutrition and Dietetics Training Program, and IHS Division of Oral Health.
Note: Most live webinars are recorded and offer CME/CE credit.
Next Live Free CME/CE Webinar
Topic:

Diabetes Prevention Strategies: Evidence, Experiences, and Outcomes

Presenter:

Richard Arakaki, MD
Endocrinologist and Professor Emeritus
University of Hawaii

Credit offered:

CME/CE/CPEU/CDE

Date:

Wednesday, August 11, 2021

Time:

3pm EDT / 2pm CDT / 1pm MDT / 12pm PDT / 11am AKDT

Duration:

1 hour

Add to Calendar:

Registration:

Not required. Use the Join Webinar button at the time of the webinar to join.

Questions:

Contact the Clinical Training Team for any questions.


Join Webinar


Issue accessing the webinar? Test your connection.
Information about the webinar presentation:
This seminar describes the evidence, experiences and outcomes from a variety of work that has been done to reduce the impact of prediabetes and type 2 diabetes. The seminar invites health team members to develop plans to incorporate evidence based clinical, pharmaceutical and lifestyle intervention activities into their care for patients at risk for diabetes.
Save the Dates for Live CME/CE Sessions
Advancements in Diabetes webinar sessions are held monthly and are scheduled for one hour. Contact the Clinical Training Team for any questions or recommendations for future topics/speakers.
Date
Topic
Presenter(s)
Add to Calendar
Wednesday, August 25
"To Not Have Diabetes"- A Child's Definition of Health and Why Breastfeeding Support is a Shared Responsibility
Jessica Quinlan, MPH, RD, CLC
Nutrition Coordinator
Pueblo of Zuni WIC Program;
Food Sovereignty Coordinator
Zuni Youth Enrichment Project

[ICS – 42 KB]

Tuesday, September 21
Update on Diabetes Medications
Paul Bloomquist, MD
Area Diabetes Consultant
Phoenix Area IHS

[ICS – 42 KB]

Wednesday, September 29
Move Your Way
Kate Olskamp, MPH
Katrina Piercy
OS/OASH

[ICS – 42 KB]

Tuesday, October 19
Tobacco Cessation
Velliyah Craig, RPh NCPS
Director Tobacco Cessation Clinic
Phoenix Indian Medical Center

[ICS – 42 KB]

Unless otherwise specified, all training begins at 3pm ET / 2pm CT / 1pm MT / 12pm PT / 11am AKT.