Diabetes Online CME/CE Education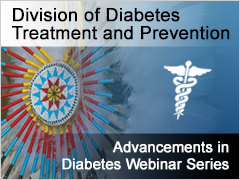 Earn free CME/CE by attending our live clinical training webinars. In each one-hour webinar, experts present what's new on diabetes-related topics and describe practical tools to use in your practice. Training is intended for physicians, nurse practitioners, physician assistants, nurses, dentists, dietitians, diabetes program coordinators, and other health care professionals.
Accredited Providers of CME/CE: IHS Clinical Support Center, IHS Nutrition and Dietetics Training Program, and IHS Division of Oral Health.
Note: Most live webinars are recorded and offer CME/CE credit.
Next Live Free CME/CE Webinar
Topic:

Optimizing Care for Patients with Food Insecurity

Date:

Wednesday, December 14, 2022

Time:

3pm EST / 2pm CST / 1pm MST / 12pm PST / 11am AKST

Add to Calendar:

Presenter:

Dr. Hilary Seligman, MD, MAS
Professor of Medicine
University of California San Fransisco

Credit offered:

1 hour of CME/CE/CPEU/CPE

Duration:

1 hour

Registration:

Not required. Use the Join Webinar button at the time of the webinar to join.

Questions:

Contact the Clinical Training Team for any questions.


Join Webinar



Information about the webinar presentation:
This presentation describes food insecurity in the US and screening for food insecurity in the clinical setting. It then addresses strategies and rationale for addressing food insecurity in the context of diabetes care. Finally, the full spectrum of "food is medicine interventions" will be summarized.
Save the Dates for Live CME/CE Sessions
Unless otherwise specified:
All training begins at 3pm ET / 2pm CT / 1pm MT / 12pm PT / 11am AKT
Offer 1 hour of ACCME, ACPE, ANCC, CDR credit*
Date
Topic
Presenter(s)
Add to Calendar
Wednesday,
December 21
The Impact of Social Determinants of Health on Type 2 Diabetes in Indigenous Communities
Melissa L. Walls, PhD
Bloomberg Associate Professor of American Health, Department of International Health
Director, Great Lakes Hub, Johns Hopkins Center for American Indian Health

[ICS – 7 KB]

Wednesday,
January 11, 2023
2023 Update on HCV and Fatty Liver Disease
Anita Kohli, MD
Director of Clinical Research
Arizona Liver Health

[ICS – 7 KB]

Wednesday,
January 18, 2023
Food Choices from the Salt River Community
Gary Owen

[ICS – 7 KB]

Wednesday,
January 25, 2023
Results from the 2022 IHS Diabetes Care and Outcomes Audit
Karen Sheff, MS, Biostatistician
Dorinda Wiley-Bradley, RN, CDCES

[ICS – 7 KB]

Wednesday,
February 1, 2023
Cardiovascular Risk Stratification in American Indians
Jason Deen, MD
Co-Principal Investigator, Strong Heart Study Arizona collections site
Associate Professor of Pediatrics and Medicine
Divisions of Cardiology
University of Washington School of Medicine

[ICS – 7 KB]
*ACCME (Medical); ACPE (Pharmacy); ANCC (Nursing); and CDR (Dietitian)