Diabetes Online CME/CE Education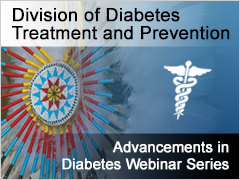 Earn free CME/CE by attending our live clinical training webinars. In each one-hour webinar, experts present what's new on diabetes-related topics and describe practical tools to use in your practice. Training is intended for physicians, nurse practitioners, physician assistants, nurses, dentists, dietitians, diabetes program coordinators, and other health care professionals.
Accredited Providers of CME/CE: IHS Clinical Support Center, IHS Nutrition and Dietetics Training Program, and IHS Division of Oral Health.
Note: Most live webinars are recorded and offer CME/CE credit.
Next Live Free CME/CE Webinar
Topic:

Non-Insulin Medications for Hyperglycemia Treatment in Type 2 Diabetes

Presenter(s):

Richard Arakaki, MD
Clinical Consultant
IHS Division of Diabetes

Credit offered:

CME/CE/CPEU/CDE

Date:

Wednesday, February 26, 2020

Time:

3pm EST / 2pm CST / 1pm MST / 12pm PST / 11am AKST

Duration:

1 hour

Add to Calendar:

Registration:

Not required. Use the Join Webinar button at the time of the webinar to join.

Questions:

Contact the Clinical Training Team for any questions.


Information about the webinar presentation:
There are many non-insulin medications for the treatment of hyperglycemia available to patients with type 2 diabetes. Recent studies suggest the benefit of new agents beyond blood sugar reduction. Appropriate selection of medications will require understanding of the mechanism of action, effectiveness and side effects of treatment, and cost and convenience to our patients.
Save the Dates for Live CME/CE Sessions
Advancements in Diabetes webinar sessions are held monthly and are scheduled for one hour. Contact the Clinical Training Team for any questions or recommendations for future topics/speakers.
Date
Topic
Presenter(s)
Add to Calendar
Wednesday, March 4
Mindful Eating Basics
Erica Dean, MS, RDN, LD, CDE
Diabetes Program Dietitian
Claremore Indian Hospital
Claremore, OK

[ICS – 43 KB]

Wednesday, March 11
Native Centered Nutrition Education
Kibbe Conti, MS, RD
Diabetes Program Dietitian
Zuni Service Unit
Zuni, NM

[ICS – 43 KB]

Wednesday, March 18
Materials Development Team – DDTP Materials
Brenda Broussard, MPH, MBA, RDN, CDE
Cecelia Butler, MS, RD, CDE
Dianna Richter, RD, MPH, CDE
Nutrition and Diabetes Consultants
IHS Division of Diabetes

[ICS – 43 KB]

Wednesday, March 25
Engaging Partners to Address Food Access and Food Insecurity
Jenna Cope, MPH, RD, LD, CHES and
Lydia Kim, MD
Northern Navajo Medical Center
Shiprock, NM

[ICS – 43 KB]

Unless otherwise specified, all training begins at 3pm ET / 2pm CT / 1pm MT / 12pm PT / 11am AKT.