The Indian Health Service continues to work closely with our tribal partners to coordinate a comprehensive public health response to COVID-19. Read the latest info.
Diabetes Online CME/CE Education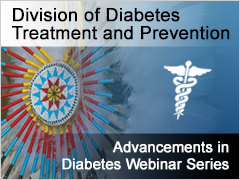 Earn free CME/CE by attending our live clinical training webinars. In each one-hour webinar, experts present what's new on diabetes-related topics and describe practical tools to use in your practice. Training is intended for physicians, nurse practitioners, physician assistants, nurses, dentists, dietitians, diabetes program coordinators, and other health care professionals.
Accredited Providers of CME/CE: IHS Clinical Support Center, IHS Nutrition and Dietetics Training Program, and IHS Division of Oral Health.
Note: Most live webinars are recorded and offer CME/CE credit.
Next Live Free CME/CE Webinar
Topic:

The Science Supporting Exclusive Breastfeeding: Why Not Just One Bottle?

Presenter:

Jennifer Thomas, MD, MPH, IBCLC
Pediatrician and Breastfeeding Medicine Specialist Clinical Assistant Professor of Community and Family Medicine and Pediatrics
Medical College of Wisconsin
Franklin, WI

Credit offered:

CME/CE/CPEU/CDE

Date:

Tuesday, April 7, 2020

Time:

3pm EDT / 2pm CDT / 1pm MDT / 12pm PDT / 11am AKDT

Duration:

1 hour

Add to Calendar:

Registration:

Not required. Use the Join Webinar button at the time of the webinar to join.

Questions:

Contact the Clinical Training Team for any questions.


Information about the webinar presentation:
Breastfeeding is an evidence based early intervention for reducing risk for obesity and diabetes. The hospital/medical culture of supplementation can and does affect the length of exclusive breastfeeding and ultimately the infant's future health status. Early problems with breastfeeding cause about half of mothers to abandon breastfeeding in the first postpartum weeks. This session will provide information on multiple, simple ways that obstetricians, midwives, nursing and other staff can support the normal process of breast feeding. The IHS promotes and tracks breastfeeding via efforts such as the Baby Friendly Hospital Initiative, the Diabetes Treatment and Prevention Program Best Practices, and GPRA.
Save the Dates for Live CME/CE Sessions
Advancements in Diabetes webinar sessions are held monthly and are scheduled for one hour. Contact the Clinical Training Team for any questions or recommendations for future topics/speakers.
Date
Topic
Presenter(s)
Add to Calendar
Wednesday, May 6
Motivational Interviewing: Helping People with Diabetes Make Self Directed Health Decisions
Chandima Deegala, B.S., PharmD, NCPS-PP, CTTS
Northern Navajo Medical Center
Shiprock, NM

[ICS – 43 KB]

Tuesday, May 19
Fed is Best: Addressing Controversies Targeted at Baby Friendly Hospital Initiative
Kathleen Kendall-Tackett, PhD, IBCLC, FAPA
Health Psychologist
Amarillo, TX

[ICS – 43 KB]

Tuesday, June 2
Diabetes Prevention: Helping Teen Moms Breastfeed
Nancy Williams, MA, MFT, IBCLC, CCE
Marriage and Family Therapist
Certified Childbirth Educator
Santa Maria, CA

[ICS – 43 KB]

Tuesday, June 16
Breastfeeding in the Workplace
Cara Cannon, MD, MS, FAAP, IBCLC
Pediatrician
Lakeland Regional Health
Lakeland, FL

[ICS – 43 KB]

Wednesday, June 24
Foot Care Essentials for People with Diabetes
Sandra Graham, PT
Alaska Native Medical Center
Anchorage, AK

[ICS – 43 KB]

Wednesday, July 8
Individualizing Care for People with Progressive Kidney Disease
Andrew Narva, MD, FASN
Clinical Consultant
IHS DDTP

[ICS – 43 KB]

Unless otherwise specified, all training begins at 3pm ET / 2pm CT / 1pm MT / 12pm PT / 11am AKT.