The Indian Health Service continues to work closely with our tribal partners to coordinate a comprehensive public health response to COVID-19. Read the latest info.
Diabetes Online CME/CE Education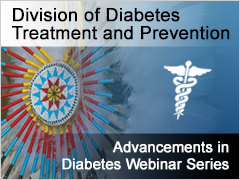 Earn free CME/CE by attending our live clinical training webinars. In each one-hour webinar, experts present what's new on diabetes-related topics and describe practical tools to use in your practice. Training is intended for physicians, nurse practitioners, physician assistants, nurses, dentists, dietitians, diabetes program coordinators, and other health care professionals.
Accredited Providers of CME/CE: IHS Clinical Support Center, IHS Nutrition and Dietetics Training Program, and IHS Division of Oral Health.
Note: Most live webinars are recorded and offer CME/CE credit.
Next Live Free CME/CE Webinar
Topic:

Overview of Cancer and Cancer Screening in AI/AN People with Diabetes

Presenter:

Lani Desaulniers, MD, FAAFP
Clinical Consultant
IHS Division of Diabetes

Credit offered:

CME/CE/CPEU/CDE

Date:

Tuesday, April 27, 2021

Time:

3pm EDT / 2pm CDT / 1pm MDT / 12pm PDT / 11am AKDT

Duration:

1 hour

Add to Calendar:

Registration:

Not required. Use the Join Webinar button at the time of the webinar to join.

Questions:

Contact the Clinical Training Team for any questions.


Join Webinar


Issue accessing the webinar? Test your connection.
Information about the webinar presentation:
People with diabetes are at increased risk for several types of cancer (liver, endometrium, breast, colorectal and bladder) and they can experience worse outcomes than the general population. Similar disparities in risk and outcomes have been described in the AI/AN population.

This session will provide an overview of the epidemiology of cancer in people with diabetes and in the AI/AN population, and strategies for cancer risk reduction. An overview of current cancer screening recommendations will be presented. The role of the diabetes care team in promoting cancer screening as part of routine diabetes care will be addressed, particularly in the post-COVID era when people may have deferred routine care and testing.
Save the Dates for Live CME/CE Sessions
Advancements in Diabetes webinar sessions are held monthly and are scheduled for one hour. Contact the Clinical Training Team for any questions or recommendations for future topics/speakers.
No upcoming Advancements Webinars currently scheduled.