Diabetes Online CME/CE Education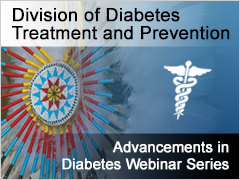 Earn free CME/CE by attending our live clinical training webinars. In each one-hour webinar, experts present what's new on diabetes-related topics and describe practical tools to use in your practice. Training is intended for physicians, nurse practitioners, physician assistants, nurses, dentists, dietitians, diabetes program coordinators, and other health care professionals.
Accredited Providers of CME/CE: IHS Clinical Support Center, IHS Nutrition and Dietetics Training Program, and IHS Division of Oral Health.
Note: Most live webinars are recorded and offer CME/CE credit.
Next Live Free CME/CE Webinar
Topic:

Beyond PubMed: Finding Clinical Literature on Diabetes

Presenter(s):

Diane Cooper, MSLS
NIH Library / Office of Research Services
National Institutes of Health

Credit offered:

CME/CE/CPEU/CDE

Date:

Tuesday, November 12, 2019

Time:

3pm EST / 2pm CST / 1pm MST / 12pm PST / 11am AKST

Duration:

1 hour

Add to Calendar:

Registration:

Not required. Use the Join Webinar button at the time of the webinar to join.

Questions:

Contact the Clinical Training Team for any questions.


Information about the webinar presentation:
Scientific papers are often a source of invaluable data, statistics, and conclusions, yet are often difficult to locate. This workshop is for those who want to become knowledgeable in finding credible diabetes research information in published and unpublished literature often found in PubMed and other databases. This session will provide clinicians with basic information for finding, understanding, and applying clinical literature findings to daily practice.
Upcoming Live Free CME/CE Webinars
Advancements in Diabetes webinar sessions are held monthly and are scheduled for one hour. Contact the Clinical Training Team for any questions or recommendations for future topics/speakers.
No upcoming Advancements Webinars currently scheduled.