The Indian Health Service continues to work closely with our tribal partners to coordinate a comprehensive public health response to COVID-19. Read the latest info.
Diabetes Online CME/CE Education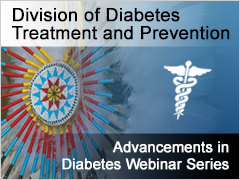 Earn free CME/CE by attending our live clinical training webinars. In each one-hour webinar, experts present what's new on diabetes-related topics and describe practical tools to use in your practice. Training is intended for physicians, nurse practitioners, physician assistants, nurses, dentists, dietitians, diabetes program coordinators, and other health care professionals.
Accredited Providers of CME/CE: IHS Clinical Support Center, IHS Nutrition and Dietetics Training Program, and IHS Division of Oral Health.
Note: Most live webinars are recorded and offer CME/CE credit.
Next Live Free CME/CE Webinar
Topic:

What the Diabetes Team Needs to Know About Kidney Transplant

Presenter:

Isaac E. Hall, MD, MS
Assistant Professor of Medicine
University of Utah School of Medicine
Division of Nephrology and Hypertension
Kidney and Pancreas Transplant Program

Credit offered:

CME/CE/CPEU/CDE/ and now offering CPE

Date:

Wednesday, May 25, 2022

Time:

3pm EDT / 2pm CDT / 1pm MDT / 12pm PDT / 11am AKDT

Duration:

1 hour

Add to Calendar:

Registration:

Not required. Use the Join Webinar button at the time of the webinar to join.

Questions:

Contact the Clinical Training Team for any questions.


Join Webinar


Issue accessing the webinar? Test your connection.
Information about the webinar presentation:
This presentation is designed to assist primary and diabetes care providers and educators in counseling people with kidney transplants. The session will provide diagnostic criteria and management strategies for common long-term complications of transplantation along with recommendations for educating and assisting patients with kidney transplants. The benefits of care coordination for patients with kidney transplants will also be addressed.
Save the Dates for Live CME/CE Sessions
Advancements in Diabetes webinar sessions are held monthly and are scheduled for one hour.
Date
Topic
Presenter(s)
Add to Calendar
Wednesday,
June 15
Update on Immunizations for Adults with Diabetes
Uzo Chukwuma, MPH
Branch Chief, Infectious Disease Branch,
IHS National Immunization Program Manager,
Division of Epidemiology and Disease Prevention

[ICS – 42 KB]

Wednesday,
June 22
Diabetes and Neuropathy
Caroline Badeer, MD
Neurologist
Phoenix Indian Medical Center

[ICS – 42 KB]

Unless otherwise specified, all training begins at 3pm ET / 2pm CT / 1pm MT / 12pm PT / 11am AKT.