The Indian Health Service continues to work closely with our tribal partners to coordinate a comprehensive public health response to COVID-19. Read the latest info.
Diabetes Online CME/CE Education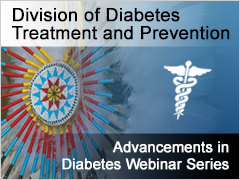 Earn free CME/CE by attending our live clinical training webinars. In each one-hour webinar, experts present what's new on diabetes-related topics and describe practical tools to use in your practice. Training is intended for physicians, nurse practitioners, physician assistants, nurses, dentists, dietitians, diabetes program coordinators, and other health care professionals.
Accredited Providers of CME/CE: IHS Clinical Support Center, IHS Nutrition and Dietetics Training Program, and IHS Division of Oral Health.
Note: Most live webinars are recorded and offer CME/CE credit.
Next Live Free CME/CE Webinar
Topic:

The COVID-19 Pandemic: Infant Outcomes and Breastfeeding in this Emergency

Presenter:

Kathleen Marinelli, MD, IBCLC, FABM, FAAP
Clinical Professor of Pediatrics, University of Connecticut School of Medicine
Division of Neonatology, Connecticut Childrens' Medical Center, Hartford, CT
Associate Editor, Journal of Human Lactation

Credit offered:

CME/CE/CPEU/CDE

Date:

Tuesday, October 20, 2020

Time:

2pm EDT / 1pm CDT / 12pm MDT / 11am PDT / 10am AKDT

Duration:

1 hour

Add to Calendar:

Registration:

Not required. Use the Join Webinar button at the time of the webinar to join.

Questions:

Contact the Clinical Training Team for any questions.


Information about the webinar presentation:
Breastfeeding is an evidence based early intervention for reducing risk for obesity and diabetes. This session will provide an update on the transmission of COVID in the perinatal period and will also include analysis of rates and severity of infection in infants and young children. Information on human milk and the virus as well as emerging information on immunoglobulins will be provided, along with discussion of the safety of breastfeeding in the face of the pandemic. The IHS promotes and tracks breastfeeding via efforts such as the Baby Friendly Hospital Initiative, the Diabetes Treatment and Prevention Program Best Practices, and GPRA.
Save the Dates for Live CME/CE Sessions
Advancements in Diabetes webinar sessions are held monthly and are scheduled for one hour. Contact the Clinical Training Team for any questions or recommendations for future topics/speakers.
Date
Topic
Presenter(s)
Add to Calendar
Thursday, October 29
Eye Care for People with Diabetes
Dawn Clary, OD
Director, IHS-Joslin Vision Network Teleophthalmology Program

[ICS – 42 KB]

Unless otherwise specified, all training begins at 3pm ET / 2pm CT / 1pm MT / 12pm PT / 11am AKT.