Diabetes Online CME/CE Education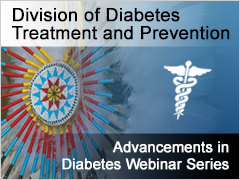 Earn free CME/CE by attending our live clinical training webinars. In each one-hour webinar, experts present what's new on diabetes-related topics and describe practical tools to use in your practice. Training is intended for physicians, nurse practitioners, physician assistants, nurses, dentists, dietitians, diabetes program coordinators, and other health care professionals.
Accredited Providers of CME/CE: IHS Clinical Support Center, IHS Nutrition and Dietetics Training Program, and IHS Division of Oral Health.
Note: Most live webinars are recorded and offer CME/CE credit.
Next Live Free CME/CE Webinar
Topic:

Update on Nutrition Facts Labeling

Presenter(s):

Robin McKinnon, PhD MPA
Senior Advisor for Nutrition Policy
Blakely Fitzpatrick
Analyst
Maya Maroto
Public Health Educator
Center for Food Safety and Applied Nutrition | Office of Foods and Veterinary Medicine
Food and Drug Administration | Department of Health and Human Services

Credit offered:

CME/CE/CPEU/CDE

Date:

Tuesday, September 24, 2019

Time:

3pm EDT / 2pm CDT / 1pm MDT / 12pm PDT / 11am AKDT

Duration:

1 hour

Registration:

Not required. Use the Join Webinar button at the time of the webinar to join.

Questions:

Contact the Clinical Training Team for any questions.