The Indian Health Service continues to work closely with our tribal partners to coordinate a comprehensive public health response to COVID-19. Read the latest info.
Diabetes Online CME/CE Education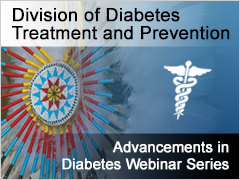 Earn free CME/CE by attending our live clinical training webinars. In each one-hour webinar, experts present what's new on diabetes-related topics and describe practical tools to use in your practice. Training is intended for physicians, nurse practitioners, physician assistants, nurses, dentists, dietitians, diabetes program coordinators, and other health care professionals.
Accredited Providers of CME/CE: IHS Clinical Support Center, IHS Nutrition and Dietetics Training Program, and IHS Division of Oral Health.
Note: Most live webinars are recorded and offer CME/CE credit.
Next Live Free CME/CE Webinar
Topic:

Indigenous Foods Movement in Alaska: Holistic Approaches for Nutrition and Culture

Presenters:

Seth Anderson MS, RD, LD
Dietitian, Primary Care Clinics
Southcentral Foundation

Luz Smeenk MS, RD, LD
Community Educator, Diabetes Program
Alaska Native Tribal Health Consortium

Amy Foote, CDM
Executive Chef

Alaska Native Tribal Health Consortium

Credit offered:

CME/CE/CPEU/CDE

Date:

Tuesday, March 2, 2021

Time:

3pm EST / 2pm CST / 1pm MST / 12pm PST / 11am AKST

Duration:

1 hour

Add to Calendar:

Registration:

Not required. Use the Join Webinar button at the time of the webinar to join.

Questions:

Contact the Clinical Training Team for any questions.


Join Webinar


Issue accessing the webinar? Test your connection.
Information about the webinar presentation:
Indigenous food ways have a long history of holistic wellness with significant contribution to diabetes prevention. This session will discuss Alaska movement in AN/AI communities for the reclamation and revitalization of indigenous foods. The Alaska foods cookbook project, large-scale use of indigenous foods in hospital meals and senior meals program, and therapeutic value of providing access to indigenous foods will all be discussed. Insights and recommendation for implementing indigenous foods programs will be shared.
Save the Dates for Live CME/CE Sessions
Advancements in Diabetes webinar sessions are held monthly and are scheduled for one hour. Contact the Clinical Training Team for any questions or recommendations for future topics/speakers.
Date
Topic
Presenter(s)
Add to Calendar
Tuesday, March 9
Traditional Foods Are a Way to Talk About Health: The CDC Traditional Foods Project
Dawn Satterfield, PhD, MSN, RN
Larry Alonso, FNP-BC

CDC National Center for Chronic Disease Prevention and Health Promotion, Division of Diabetes Translation

Lemyra DeBruyn, PhD

[ICS – 42 KB]

Tuesday, March 16
Simplified Carbohydrate Education Approaches
Jenna Cope, MPH, RD, LD, CHES®
Senior Public Health Analyst
Office for the Advancement of Telehealth
HRSA Federal Office of Rural Health Policy
and
Kibbe Brown, MS, RDN
Nutrition Consultant

IHS Division of Diabetes Treatment and Prevention

[ICS – 42 KB]

Wednesday, March 24
Native American Food Culture, Traditions, and Nutrition Counseling: a look into Chippewa/Cree and Navajo traditions
Terrie Stump,
Diabetes Prevention Coordinator
and
Dakotah Bronec, RD

Rocky Boy Diabetes Program

[ICS – 42 KB]

Tuesday, March 30
2-3 pm EDT
FDA Update on the Nutrition Facts Label and Education Campaign
Blakeley Fitzpatrick, MPH, RD
Director, Division of Nutrition Programs
and
Maya Maroto, EdD, MPH, RD
Public Health Educator

FDA/Center for Food Safety and Applied Nutrition

[ICS – 42 KB]

Unless otherwise specified, all training begins at 3pm ET / 2pm CT / 1pm MT / 12pm PT / 11am AKT.