The Indian Health Service continues to work closely with our tribal partners to coordinate a comprehensive public health response to COVID-19. Read the latest info.
Tribal Injury Prevention Cooperative Agreement Program (TIPCAP)
NOTICE OF FUNDING OPPORTUNITY TRIBAL INJURY PREVENTION COOPERATIVE AGREEMENT PROGRAM (TIPCAP)
The application window is closed
The IHS Injury Prevention Program announced the availability of funding to address the disparity in injury rates by encouraging Tribes to implement focused, community-based injury prevention programs and projects using evidence-based strategies. For more information on such programs see Injury Prevention Program Evidence-based Strategies and Injury Prevention Program Planning .
Applications were accepted for the prevention of
Unintentional Injuries – falls, burns, drowning, poisoning (including opioids), and motor vehicle-related injuries
Intentional Injuries – suicide, and violence-related injuries
Funding is available in two parts and open to all eligible applicants regardless of previously received TIPCAP funding
Part I ceiling up to $125,000
Part II ceiling up to $32,000
Application deadline: October 01, 2020 at 11:59 p.m. ET
The Indian Health Service provides funding for tribes to develop their infrastructure in injury prevention to address the disparity in the unintentional injury problem. Established in 1997, the Tribal Injury Prevention Cooperative Agreement Program (TIPCAP) began to provide funding through a competitive process. Tribes were awarded multi-year funding to hire a full-time Injury Prevention Coordinator and to develop programs based on effective strategies or best practices in injury prevention. This collaboration with the awardees allows the IHS to provide the technical guidance in injury prevention program development; implementation; evaluation; training and resource development.
Grantees are categorized in two programs:
Part I grantees are federally recognized tribes, or tribal/urban organizations new to the IHS Injury Prevention Program. This provides funding for the grantees to hire a Tribal Injury Prevention Coordinator. $100,000 for Year 1; and $80,000 annually for Years 2-5.
Part II grantees are federally recognized tribes, tribal/urban organizations who develop, implement, and evaluate injury prevention programs $20,000 annually for five years.
The IHS Injury Prevention Program has funded more than 110 grantees since 1997. The lessons learned over the years has helped shape the program to foster new ideas, best practices and overcome many challenges with continued benefit to reducing injuries at AI/AN communities. The current TIPCAP grantees address the two IHS Injury Prevention Program priorities: 1) motor vehicle; and 2) unintentional elder falls. The TIPCAP grantees employ effective strategies in collaboration with key partners to target specific injury risk and hazards. TIPCAP grantees receive technical assistance from the Centers for AI/AN Health Exit Disclaimer: You Are Leaving www.ihs.gov , Colorado School of Public Health.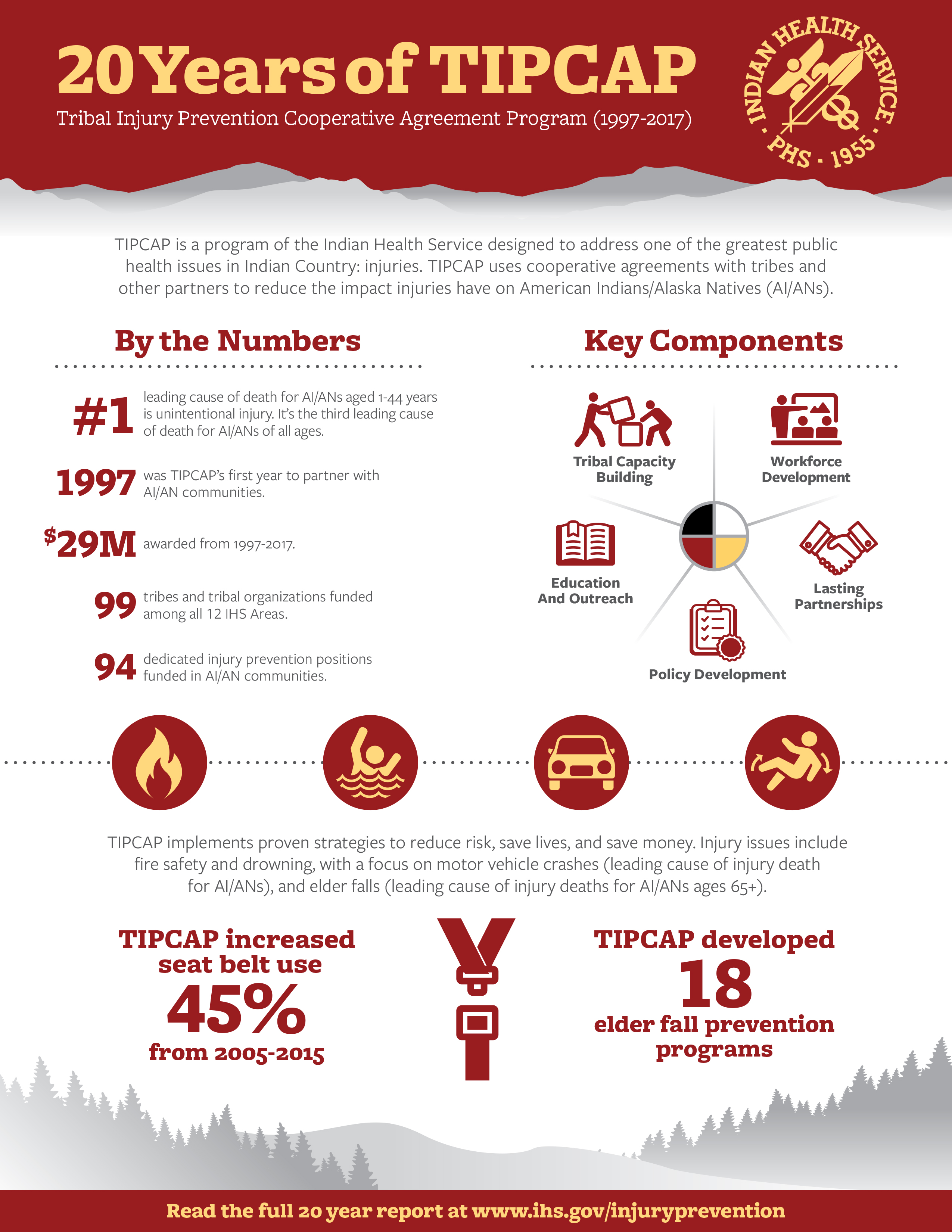 The 31 TIPCAP grantees from 12 IHS Areas for 2016-2020 are:
Part I Grantees
Albuquerque Area Health Board
Blackfeet Tribe
MT WY Tribal Epi Center
Ponca Tribe of Oklahoma
Salt River Pima-Maricopa Indian
Washoe Tribe of NV and CA
Winnebago Tribe of NE
Part II Grantees
Ak-Chin Indian Community
Apache Tribe of Oklahoma
Bristol Bay Area Health Corp
California Rural Indian Health Board
Choctaw Nation of Oklahoma
Comanche Tribe of Oklahoma
Fond du Lac Band of Lake Superior Chippewa
Gila River Indian Community
Great Plains Tribal Chairmen
Ho-Chunk Nation
Indian Health Council
Inter Tribal Council of Arizona Inc.
Lake County Tribal Health Consortium
Navajo Nation
Northern Cheyenne Tribe
NW Portland Area Indian Health Board
Pascua Yaqui Tribe
Pueblo of Jemez
Pyramid Lake Pauite Tribe
Reno-Sparks Indian Colony
Saint Regis Mohawk Tribe
Shoshone-Paiute Tribes of Duck Valley
Whichita and Affiliated Tribe
White Earth Band of Chippewa Indians