The Indian Health Service continues to work closely with our tribal partners to coordinate a comprehensive public health response to COVID-19. Read the latest info.
Training Opportunities
COVID-19 TeleEcho Program
Ways to receive and provide opioid prescribing instruction include presentations; messaging through posters, flyers and newsletters; electronic communication; and web-based educational opportunities. Education combining interventions and outcome measurement has been found to be most effective. The Indian Health Manual includes a statement on controlled substance prescriber training requirements, but other training may also be needed for state licensure.
IHS has adopted the HHS 5-Point Strategy to Combat the Opioid Crisis Exit Disclaimer: You Are Leaving www.ihs.gov . In order to put evidence-based opioid prescribing strategies into practice, IHS supports increasing the capacity of health care providers and systems of care. Regional (and if indicated national) care teams should share information, since effective local and national opioid stewardship requires ongoing review and study of available chronic pain management innovations.
CDC Training
The Centers for Disease Control and Prevention (CDC) developed an 11-module interactive training series for providers, "Applying CDC's Guideline for Prescribing Opioids."
Pain and Opioid Use Disorder Webinar Series
The Pain and Opioid Use Disorder Webinar Series is one of many ways the HOPE Committee offers provider support on pain management and opioid use disorder. The webinar series offers a space for healthcare providers to learn and build ideas for local facilities. The series highlights model IHS programs and collaborates with internal and external subject matter experts to deliver discussions on a wide array of related topics. CEU credits are available for the following professions through live webinar attendance: Medicine, Psychology, Psychiatry, Social Work, Nursing, and Pharmacy.
Webinars
Previous webinar recordings are linked below:
Treatment in the ED Exit Disclaimer: You Are Leaving www.ihs.gov — "Treatment of Opioid Use Disorder in the ED: should it be a choice?" (11/12/2020)
Mental Illness Exit Disclaimer: You Are Leaving www.ihs.gov — "Assessment and Treatment of Pain and Co-occurring Opioid Use Disorder in Individuals with Serious Mental Illness" (3/30/2020)
MAT Resources Exit Disclaimer: You Are Leaving www.ihs.gov — "Implementing Integrated Medication Assisted Treatment Models – A Review of Resources" (2/4/2020)
Treatment and Pregnancy Exit Disclaimer: You Are Leaving www.ihs.gov — "Initiating Buprenorphine as Medication Assisted Treatment for Pregnant Women with Opioid Use Disorder" (9/30/2019)
Do you have an idea for a webinar topic or want to share your current practices? Email Tincy Maroor, our webinar coordinator.
Other Training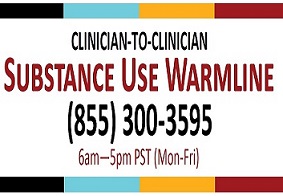 The Substance Use Warmline (1-855-300-3595) offers on-demand Clinician-To-Clinician support for IHS providers managing alcohol and substance use disorders. Download a printable Substance Use Warmline bumper sticker [PDF - 444 KB]
Essential Training on Pain and Addiction
IHS Essential Training on Pain and Addiction is required for all IHS Federal prescribers, contractors, clinical residents and trainees within the first six months of employment, and Refresher training is required to be completed every 3 years.
For pain management related IHS Clinical Rounds webinars, please visit the other training page.
ECHO and DATA Waiver Training
In partnership with University of New Mexico's School of Medicine, Project ECHO (Extension for Community Healthcare Outcomes) IHS offers ECHO tele-education and training.
The Northwest Portland Area Indian Health Board (NPAIHB) also offers information, resources, and free Substance Use Disorder (SUD) and Hepatitis C (HCV) ECHO training Exit Disclaimer: You Are Leaving www.ihs.gov to staff serving American Indian and Alaska Native people.
Indian Country ECHOExit Disclaimer: You Are Leaving www.ihs.gov allows IHS, Tribal, and Urban Indian healthcare workers to learn from each other, and for specialists to learn from Indian Country as new best practices emerge.
Screening, Brief Intervention and Referral to Treatment (SBIRT)
The Screening, Brief Intervention, and Referral to Treatment (SBIRT) is a comprehensive, integrated, evidenced-based tool for early identification and intervention with patients whose patterns of alcohol and/or drug use (and other behaviors) put their health at risk. This ten part series offers a comprehensive training as well as stand-alone modules to offer training and resources for healthcare providers. Visit the IHS Tele-education website for this on-demand training.