The Indian Health Service continues to work closely with our tribal partners to coordinate a comprehensive public health response to COVID-19. Read the latest info.
Post-Graduate Clinical Training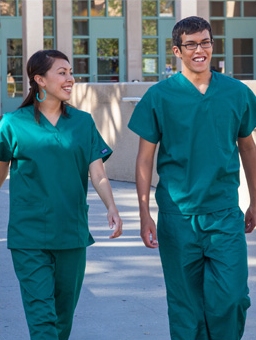 The IHS Scholarship Program supports Health Professions scholarship recipients in their quest to complete an eligible post-graduate clinical training program [PDF - 105 KB] that fulfills board certification or licensure requirements.
Physicians, social workers, clinical psychologists and dietitians are required to complete post-graduate training and licensure before they can begin their service commitment. Pharmacists, optometrists, nurses and dentists can elect to complete a one year training program upon receiving approval from the IHS Scholarship Program Branch Chief or Director, DHPS.
All recipients are required to secure a position within 90 days after graduation. Failure to secure a position could result in a breach of contract. The following information provides guidance on IHS-approved programs for each health profession.
Required Documentation
Beginning of Final Academic Year
You must submit a Request for Approval of Deferment (IHS-856-11) [PDF - 63 KB] form documenting the training program(s) that you are interested in pursuing. Your Program Analyst will review your request and provide written approval of all programs that meet IHS Scholarship Program policies.
End of Final Academic Year
You must submit a Notification of Deferment Program (IHS-856-14) [PDF - 53 KB] form by May 31 of your final year of school, notifying your Program Analyst of which approved post-graduate clinical training program you will attend.
In-Training Requirements
You must comply with the following requirements to continue your participation in your post-graduate clinical training program:
Remain in good standing with your residency or training program.
Submit an Annual Status Report (IHS-856-16)

[PDF - 53 KB]

and letter of good standing from your program director or coordinator to your Program Analyst at the end of each year of post-graduate clinical training.
Make no changes in the training period, place of training or type of training without prior approval from the IHS Scholarship Program Branch Chief.
Indian Health Careers
Enjoy competitive pay, bonuses, comprehensive health care coverage, opportunity for advancement and much more as an Indian health clinician.
Learn More