My Native Plate
My Native Plate
Use your plate as a guide to help you eat in a healthy way!
Fill half your plate with vegetables
Fill the other half of your plate with a grain/starch and a protein.
Add a side of fruit
Picture here:
Mixed berries
Cooked spinach
Baked squash with peppers and herbs
Steamed wild rice
Baked deer meat with sage
Water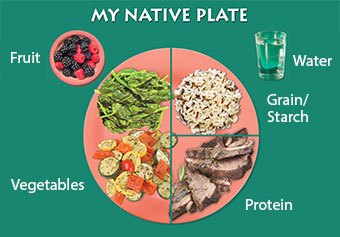 Remember:

Stay Active

Drink Water

Use a 9-inch plate
More Ideas for My Native Plate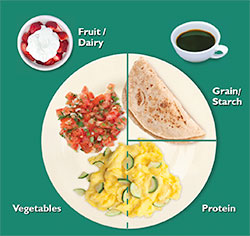 Pictured here: Yogurt with strawberries, salsa, scrambled eggs with zucchini, tortilla, coffee
Pictured here: Apple, carrots, celery, lettuce, tomato, onion, pickle, beef patty, bun, unsweetened tea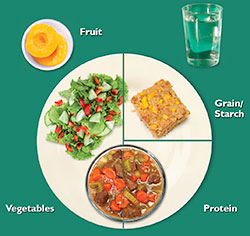 Pictured here: Peaches, salad, beef and vegetable stew, cornbread, water
Ways to Add Variety to Meals and Snacks
Vegetables and Fruits
Tips
Stock up on fresh, frozen, and canned vegetables and fruits.
Keep fruits and vegetables on hand for snacking.
Plan some meals around a vegetable main dish, such as a stir fry, stew, or soup.
Enjoy fruit as a dessert.
Examples
Vegetables: Wild greens, tomatoes, carrots, leafy greens, zucchini, avocados, broccoli, green beans, cucumbers, onions, peppers, okra
Fruits: Berries, melons, apricots, peaches, citrus fruits, bananas, apples, pears,
Proteins
Tips
Choose fish, beans, lentils, eggs, and nuts more often to cut down on meat.
Instead of a beef patty for your burger, try a veggie, black bean, turkey, soy, or bison patty.
Grill, stew, or bake meat instead of deep frying.
If milk upsets your stomach, try yogurt, lactose free milk, or soy milk.
Examples
Animal proteins: Fish, wild game, bison, poultry, mutton, beef, pork, eggs,
Plant proteins: Beans, lentils, nuts, nut butters, seeds, tofu, soy products, Dairy proteins: Milk, lactose free milk, yogurt, cheese, cottage cheese,
Grains and Starches
Tips
Choose whole grain foods, such as whole wheat breads, corn tortillas, oatmeal, and wild or brown rice.
Try whole wheat flour instead of white flour.
Add wild or brown rice to main dishes, such as a stir fry, stew, or soup.
Bake or roast potatoes instead of deep frying.
Examples
Grains: Pastas, breads, crackers, rice, oats, quinoa, barley, cereals, tortillas, flour, cornmeal,
Starchy vegetables: Potatoes, corn, green peas, winter squash,