Education Materials and Resources (Online Catalog)
Product Details
Eagle Book Series
Set of 4 Eagle Books for pre-school through grade school children, beautifully illustrated with Native American characters and wise animals. These books inspire and encourage young readers to find joy in physical activity, eating healthy foods, and learning about health and diabetes prevention. A teachers guide entitled The Eagle Book Series: A Guide for Educators and Communities is also available on the catalog.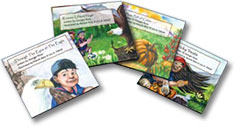 Format:
Book
Audience:
Patients/Clients, Youth, Youth Educators
Topic:
Behavioral Health, Diabetes Prevention, Eagle Book Series, Nutrition, Physical Activity/Exercise
Related tools and resources:
The following was developed by the
Oklahoma Tribal Engagement Partners
and the
Chickasaw Nation Nutrition Services Get Fresh!
Program using the CDC Eagle Book series as the central theme. The program materials listed below address the need for culturally relevant programming to help prevent type 2 diabetes in Indian Country.
You might also be interested in: