The Indian Health Service continues to work closely with our tribal partners to coordinate a comprehensive public health response to COVID-19. Read the latest info.
Education Materials and Resources (Online Catalog)
Product Details
Using Our Wit and Wisdom to Live Well with Diabetes (2008)
Three audio CD set of the 2008 book written by Barbara Mora (Paiute/Dine), recorded by the author, complete with audio effects and flute music played by Bob Mora, the author's husband. Barbara talks about her emotional journey with diabetes, and how she battled with denial and depression before learning how to take care of herself and live a joyful life. A valuable inspirational tool for those newly diagnosed with diabetes, those in denial or depressed because of diabetes, and health care providers wanting to better understand the emotional impact of a diabetes diagnosis.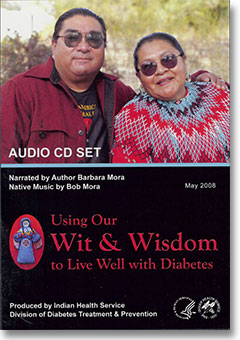 Format:
CD
Audience:
Health Care Professionals, Patients/Clients, Program Staff
Topic:
Behavioral Health, General Diabetes
You might also be interested in: