The Indian Health Service continues to work closely with our tribal partners to coordinate a comprehensive public health response to COVID-19. Read the latest info.
Education Materials and Resources (Online Catalog)
Product Details
Youth Staying Healthy: A Type 2 Diabetes Curriculum for Teens
CD ROM contains PDF pages of the 631-page curriculum in 15 teaching sessions to be used by health care professionals to provide diabetes education to youth ages 13-18 and their family members in one-on-one or group settings.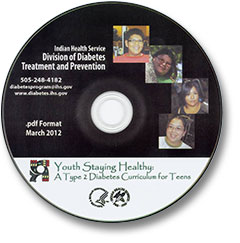 Format:
CD, Curriculum
Audience:
Youth Educators
Topic:
Diabetes Prevention
You might also be interested in: