The Indian Health Service continues to work closely with our tribal partners to coordinate a comprehensive public health response to COVID-19. Read the latest info.
Education Materials and Resources (Online Catalog)
Product Details
Coyote and The Turtle's Dream
236-page novel for teens and pre-teens, Coyote and The Turtle's Dream picks up where the Eagle Book series ends. It features characters from the original series, but expands to include family members, teachers and an elderly box turtle and introduces Arianna, a young girl with type 1 diabetes. It is an action-packed mystery adventure, that inspires readers to think about healthy lifestyles, protection of the Earth, loyalty to friends and respect for elders a Native American culture. Features captivating drawings and beautiful, full-color illustrations.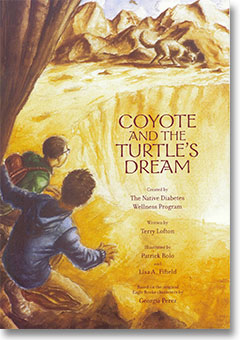 Format:
Book
Audience:
Patients/Clients, Youth, Youth Educators
Topic:
Behavioral Health, Diabetes Prevention, Eagle Book Series, Nutrition
You might also be interested in: