Cheyenne River Health Center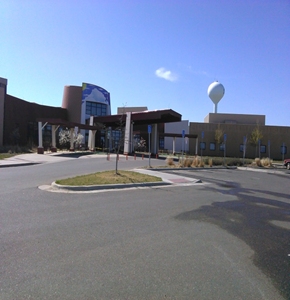 Eagle Butte Hospital
24276 166th Street, Airport Rd.
Eagle Butte, SD. 57625
Phone 605-964-7724
Fax: 605-964-1110
Mailing Address:
PHS Indian Hospital
P.O. Box 1012
Eagle Butte, South Dakota 57625
Notice of Privacy Practices [PDF - 776KB]
In January 2012, the Eagle Butte Hospital in Eagle Butte, South Dakota, was replaced with a newly constructed alternative rural health center. This is a modern, technologically advanced facility with enough space and staff to provide an expanded level of health care services specifically designed to meet the needs of the Cheyenne River Service Unit population.
The new facility has an 8 bed acute care nursing unit, 2 bed low risk birthing unit, emergency room, expanded outpatient department, dental, community health department and a full array of ancillary (including mammography) and support services. Additionally, several tribally 638 operated programs are incorporated into the new facility.
The Cheyenne River Sioux Tribe through a 638 contract with IHS, operates four satellite health stations which offer basic ambulatory services at Cherry Creek, Red Scaffold, Swiftbird, and Whitehorse.
Leadership:
Chief Executive Officer: Charles Fischer, 605-964-7724
Deputy CEO: Justin Keckler, 605-964-0506
Clinic Director: Rodney Vizcarra, 605-964-0503
Director of Nursing: Johanna Watt, 605-964-0504
Hours of Operation:
Clinic Hours
Monday-Thursday: 8:00am - 8:00pm
Friday: 8:00am - 5:00pm
Sunday: 11:00am - 5:00pm
Holiday: 11:00am - 4:00pm (closed Thanksgiving & Christmas)
Emergency Department and Inpatient Department
Open 24/7
Administration
Monday-Friday: 7:30am - 5:00pm
Who Should I Call?
General Information: 605-964-7724
Security Staff: 605-964-0776 & 605-964-0775
Services:
Audiology
Purchased Referred Care
Dietitians
Emergency Department
Eye Care
Pharmacy
Physical Therapy
Public Health Nursing
Radiology Services
Pain Management
Inpatient Care
Laboratory
Magnetic Resonance Imaging (MRI)
Medicine
Nursing