The Indian Health Service continues to work closely with our tribal partners to coordinate a comprehensive public health response to COVID-19. Read the latest info.
Turtle Mountain Service Unit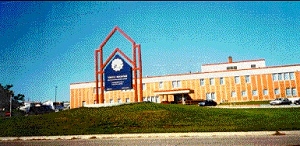 Quentin N. Burdick Memorial Health Care Facility
PHS Indian Hospital
P.O. Box 160
Moonlight Drive Highway 5
Belcourt, North Dakota 58316
Phone (701) 477-6111
The Quentin N. Burdick Memorial Health Care Facility located in Belcourt, North Dakota, 27 beds hospital serving a population of approximately 14,550 Native Americans. The QNBMHCF staffs 25 Medical Provider consisting of 3 Family Practice, 4 Hospitalists, 1 Pediatrician, 1 Surgeon, 3 ER Medical Officers, 2 OB/GYN, 1 Podiatrist, 7 Nurse Practitioners, 1 Psychiatric Nurse Practitioner, 1 Physician Assistant, and 1 Podiatrist (Acute Care, Emergency Care, and Ambulatory Care). QNBMHCF Inpatient provides General Surgery, OB/GYN, Dental Surgery, and Podiatry Surgery. The QNBMHCF Outpatient provide 24 Hour Emergency Services, Laboratory, Radiology (CAT Scan & Mobile MRI) and 24 Hr Pharmacy Services. Ambulatory Services consist of Optometry, Dental, Clinic, Emergency, Podiatry, and Same Day Clinic. QNBMHCF also offers Behavioral Health consisting of 3 Clinical Psychologists, 1 Psychiatric Nurse Practitioner, 4 Social Workers, and 2 Mental Health Technicians.