National Immunization Vaccination Week - December 2-8, 2012
Margo Kerrigan, M.P.H, Area Director

Indian Health Service California Area Office
National Influenza Vaccination Week (NIVW) is a national observance that was established by Centers for Disease Control and Prevention in 2005 to highlight the importance of continuing influenza vaccination through the holiday season, and as long as the influenza virus is still circulating. NIVW will be celebrated December 2-8 this year with NIVW promotional events and activities being offered by health care organizations across the United States.
Although the Influenza season is well under way, NIVW is an appropriate time to remind the members of your communities, including family, friends, and co-workers to get their Influenza vaccination and to catch up on other vaccinations as well. Centers for Disease Control Advisory Committee on Immunization Practice recommends an annual flu vaccination for all individuals six months of age and older, unless medically contraindicated. The Centers for Disease Control and Prevention also suggests that the single best way to prevent the flu is to get vaccinated each fall. Good health habits and antiviral medications are other measures that can help protect against the flu. Studies show that Immunizations are the first line of defense against vaccine preventable disease and are important for children, adolescents, and adults.
Vaccine-preventab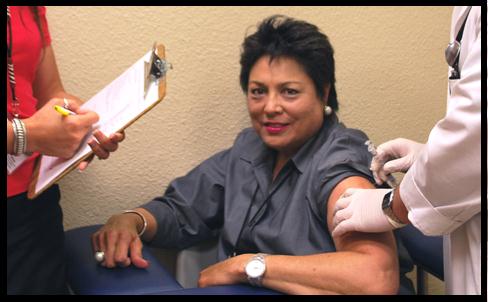 le disease rates, including those for influenza, are lower than they have ever been; however in order to continue this pattern, healthcare providers must continue to educate their patients and provide immunizations as indicated by the recommendations set forth by the Centers for Disease Control's, Advisory Committee on Immunization Practices (ACIP).
The CDC recommends annual Flu vaccination for all health care providers (HCP), unless medically contraindicated, in order to reduce spread of disease between HCPs and patients and then into the local community. Health care providers are encouraged to promote annual influenza vaccination by educating patients and by choosing to get immunized annually against influenza as role models for prevention.
What is Influenza ("Flu")?
Influenza is a highly infectious viral illness.
5-20% of the population get the flu
More than 200,000 people are hospitalized from flu-related complications
About 36,000 people die from flu-related causes
What are the symptoms of the "flu"?
The symptoms for flu include fever, cough, sore throat, runny or stuffy nose, body aches, headaches, and chills. If you have one of the following health conditions and you develop flu-like symptoms, seek medical care immediately:
Asthma
Diabetes
Cancer
HIV/AIDS
Heart Disease
Kidney Disease
Most healthy people recover from the "flu" without problems, but the following persons are known to be at higher risk for developing complications from the flu:
Persons age 65 and older
Children younger than two years old
People of any age who have chronic medical conditions
What can you do to avoid getting the "flu"?
Ask your healthcare provider about getting a seasonal flu vaccination now! The Centers for Disease Control and Prevention recommends seasonal "flu" vaccinations each year for all persons six months of age and older.
In addition to getting vaccinated, the following habits can help stop the spread of germs:
Stay home when you are sick
Wash your hands often
Avoid touching your eyes, nose or mouth
For additional information and resources, please visit:
http://www.FLU.gov
http://www.cdc.gov/flu/pdf/nivw/2012-2013-nivw-update.pdf