Emergency Urgent Care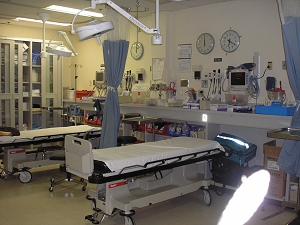 The Emergency/Urgent Care Department of this facility is a Level 4 Emergency Medical Service Department. The Emergency Department is a 9-bed unit and receives and treats patients of all ages- newborns, pediatrics, adult, and geriatrics.
Services provided by the Emergency Department include major trauma stabilization and transfer if necessary; major medical emergencies of all types, stabilization and transfer if necessary; and minor trauma and medical emergencies.
Transfers are performed by ground, fixed wing, or by rotor wing (helicopter) to other IHS facilities or Regionalized Hospitals in the Southwest.
Our Department operates 24 hours a day 7 days a week.
The Emergency Department works in collaboration with external services and agencies via contracts and agreements established by the Governing Board and Executive Team.
The goal of the Emergency Department is to provide quality care through a triage process to determine the appropriate level of care, providing the proper medical screening with treatments as determined by the medical provider.
The Emergency Department is staffed by 1 Supervisory Clinical Nurse, 13 Registered Nurses, 5 Health Technicians, and 1 Department Secretary.
In providing quality healthcare, our Registered Nurses are certified in Basic Life Support (BLS), Advance Cardiac Life Support (ACLS), Pediatric Advanced Life Support (PALS). Nurses also participate in various certification courses such as Trauma Nurse Core Curriculum (TNCC), Advanced Trauma Care Nurse (ATCN), (ENPC), Neonatal Resuscitation Program (NRP), and the S.T.A.B.L.E Program.