Physical Therapy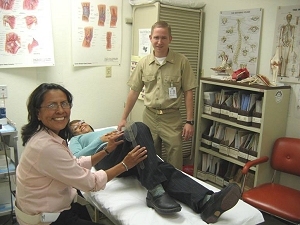 The Crownpoint Healthcare Facility Rehabilitation Department is staffed by a full-time Physical Therapist, one PT Assistant, and our Health Technician.
Our rehabilitation department offers Physical Therapy services which include care in:
Orthopedics
Neurological Rehabilitation
Woundcare
Vestibular Rehabilitation
Women's Health for Incontinence
Diabetes Footcare & Exams
Inpatient & Outpatient services
Our specialty clinics include:
Brace and Prosthetics clinic held on the 3rd Thursday of each month
Orthopedic Clinic held every 2nd and 4th Tuesday of each month
Spinal Cord Injury clinic held at Gallup Indian Medical Center 1x per year
We also offer limited Physical Therapy services at our satellite clinic in Pueblo Pintado, New Mexico.
Our department consists of Navajo speaking staff to assist with our Navajo speaking patient population. Our department operates on an appointment basis with a referral from your primary provider such as Physician, Family Nurse Practitioner, and Physician Assistant. We will also accept referrals on a walk-in basis depending on consult with the Physical Therapist and if time permits.
Hours of Operation
Monday, Tuesday, Thursday
7:30 AM - 5:30 PM
Wednesday
1:00 PM - 5:30 PM
Friday
7:30 AM - 4:30 PM
Closed every Wednesday AM for Administrative Time
Closed everyday from 12:00 PM - 1:00 PM for Lunch
Contact Information
Front Desk: Geraldine Yazzie, Medical Support Assistant, 505-786-6291
LCDR Dawn Dineyazhe, Chief of PT, 505-786-6266
Kip Christensen, Staff PT, 505-786-2537
Aaron Gibbs, Staff PT, 505-786-2537
Monika Martinez, PTA, 505-786-6290
Fax: 505-786-6440 or 6366 *Please attention to PT Department*