Laboratory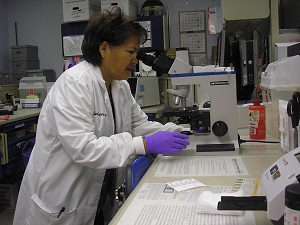 Hiring for laboratory techs/technicians at Crownpoint in on hold, and no applications are being accepted at this time for employment in Crownpoint Lab. However other service units in Navajo Area may still have openings.
Outpatient phlebotomy (blood draw) services are open Monday through Friday from 8:00AM TO 5:30 PM
We are staffed 24 hours a day, 7 days per week to serve inpatients, obstetric patients, the emergency department, and urgent care.
Services Provided
Test Management Services:
Phlebotomy
Specimen Management
Send out Testing
General Laboratory Services:
Hematology
Urinalysis
Chemistry
Coagulation
Point of Care Testing
Blood Bank Services:
Blood Typing and Antibody Screen
Blood Compatibility Testing
Blood Products
Packed RBC's
Fresh Frozen Plasma
Employees of the Laboratory:
Phlebotomists
Medical Laboratory Aides
Medical Laboratory Technicians
Medical Laboratory Technologists
Pathologists
Interested in a career in the Laboratory?
Educational Programs Available in New Mexico: University of New Mexico Gallup
Branch-Medical Laboratory
Technician Program(AA)
Phone: 505-863-7598
University of New Mexico Main
Campus- Clinical Laboratory Scientist
Program (BS) - Albuquerque, NM
Phone: 505-272-5434
Eastern New Mexico University
Portales, NM
Phone: 505-562-1011
New Mexico Highlands University
Las Vegas, NM
Phone: (877) 850-9064
CNM -MLT program
Albuquerque, NM
Phone: 505-224-4161
Phlebotomist: takes your blood
Medical Laboratory Aide: Takes your blood and helps manage the flow of specimens.
Medical Laboratory Technician: Does all of the above and run tests that are orderedby the provider.
Medical Laboratory Technologist: Does all of the above and writes policy and procedures. They also train new techs, talk to the doctors and provide results to them.
Pathologist: This is the doctor that oversees everything! The buck stops here.