Pharmacy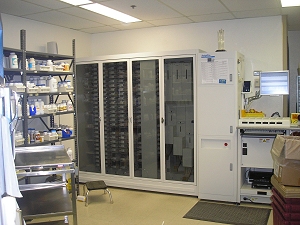 The Pharmacy Department at Crownpoint Healthcare Facility provides comprehensive pharmacy services to a population of over 20,000 patients. Services are provided in the outpatient department, medical/pediatric inpatient ward, the emergency department, and Pueblo Pintado field clinic.
Pharmacists at Crownpoint Healthcare Facility practice in a true pharmaceutical care environment where they fully utilize their knowledge and skills. Indian Health Service Pharmacy has pioneered many progressive and innovative advances over the past thirty years. Pharmacists have access to the patient's entire health record including laboratory results, immunization status, and past medical history, to assess the appropriateness of drug therapy. In outpatient settings, problems are resolved with providers prior to dispensing medications, and all patients are counseled on their medication therapy.
In the hospital setting, services provided include IV admixtures, pharmacokinetic consultation, drug information, and patient discharge medication counseling.
The cultural experience of working with Native Americans and the satisfaction of being an integral part of the health care team provides a professional experience that is unique to the Indian Health Service.
The Pharmacy Department staff consists of pharmacists, pharmacy technicians, and medical support assistant. Pharmacists are responsible for:
The selection, procurement, preparation, and dispensing of medications
Patient education on the safe and effective use of medications
Reviewing drug therapy for inpatients and outpatients for safety, appropriateness, and effectiveness
Providing drug information to clinical staff
Managing an anticoagulation service and dialysis refill service
Technicians are responsible for:
Performing technical processes in dispensing prescriptions
Reviewing orders to determine appropriate medications, directions, and quantities to be dispensed
Participating in ongoing quality improvement activities
Performing inspections of all drug storage areas to verify that adequate stocks are on hand, storage conditions meet specifications, and drugs are within expiration dates, including correction of any problems found
Placing orders to wholesalers and prime vendors, receipt and placement of incoming orders into inventory with appropriate documentation
Determine the urgency of requests for drugs when ordering so that supplies are available as needed
Several of our staff members speak the Navajo language, to assist with our Navajo language speaking patient population.
We fill orders for medications prescribed by physicians, nurse practitioners, and physician assistants who are credentialed at Crownpoint Healthcare Facility. We accept refill requests via telephone or on a walk-in basis.
Hours of operation:
Pharmacy Hours
Monday - Friday 8:00 am to 6:00pm and 1:00pm to 6:00pm on the 1st and 3rd Wednesday of the month
Thoreau Health center Pharmacy and Pueblo Pintado Pharmacy
Monday - Friday 9:00 am to 4:00pm and 12:30 pm to 4:30 pm on 1st and 3rd Wednesday of the month
Closed on weekends and federal holidays
Contact information:
Direct line: 505-786-6344
Refills: 505-786-2516
Pharmacy chief: 505-786-6345
Fax: 505-786-2526
Please check IHS JobVacancies if you are interested in working with us.