IHS Dental Externships
Jump-start Your Dental Career
The IHS Division of Oral Health (DOH) Dental Externship Program provides third-year dental students with valuable clinical experience while working in Indian health facilities. Externships typically span two to four weeks and take students to some of the most scenic destinations in the United States.
Externship participants will:
Develop clinical skills under expert supervision.
Contribute to an interdisciplinary team of health care professionals.
Build relationships with mentors and dental health professionals who could open doors for their careers.
Explore a unique career path that can inform their career choices after graduation.
Externships take place every year between May 1 and September 30.
How to Apply
The application cycle for the IHS Dental Externship Program is open January 1 - February 28. IHS site preceptors will complete their externship selections by March 31.
The 2024 application cycle for the Class of 2025 will not be available at this time. The Class of 2026 is encouraged to join the Dental Recruitment listserv at: https://www.ihs.gov/listserv/topics/signup/?list_id=109 to receive the latest updates about the IHS Dental Externship as it returns in January 2025.
We recommend you take the following steps in preparation for submitting your application for the Dental Externship Program:
View the list of IHS sites participating in the externship program at Extern Site Contact List [PDF - 606KB].
Plan your expenses. This is a post-travel reimbursement program, so you will pay expenses up front and be reimbursed, per program policies, following your externship experience.
Read the Dental Externship Program Quick Reference Guide (QRG) [PDF - 720KB] for information on program policies and travel and reimbursement procedures.
Block out 30 to 45 minutes on your calendar to complete the application.
Program Policies
Externships require a collaborative agreement between your externship site and your dental school to participate in the program. IHS recommends you work with your school's externship coordinator to identify the list of IHS sites with an existing school agreement before selecting your preferred IHS Area(s) as part of your application. If an agreement does not exist, it is your responsibility to connect your school's externship coordinator with the site preceptor to establish an agreement. Please note this process can take at least six months to complete.
IHS DOH budgets up to $2,000 for externship travel and other related expenses. This includes:
Airfare
Lodging (at government rates) when free housing is not available.
A per diem for miscellaneous expenses.
We recommend externs contact the preceptor at their assigned facility to discuss travel options.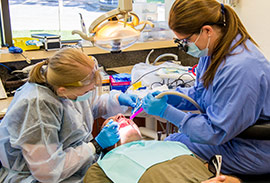 View our Dental Externship Video for valuable application tips!