Area Diabetes Consultants (ADC)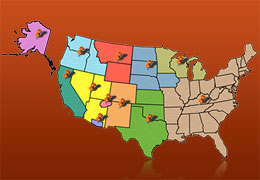 The Indian Health Care Improvement Act, amended in 1987, established that each of the 12 IHS Areas should have an Area Diabetes Consultant. The Area Diabetes Consultants are health care professionals with expertise in diabetes. They play a critical role in supporting each IHS Area's diabetes treatment and prevention activities by:
Serving as project officers for the Special Diabetes Program for Indians (SDPI) Community-Directed Diabetes Program.
Helping to coordinate an extensive Indian health system diabetes network to facilitate bi-directional information flow between local and national levels.
Providing diabetes training and resources to health care professionals and paraprofessionals in the Indian health system.
Working with the IHS Division of Diabetes to translate and disseminate the latest scientific findings on diabetes treatment and prevention to American Indian and Alaska Native communities.
---
ADC Directory
---
Bemidji Area
Phil Heuer, NP-BC
2225 Cooperative Court NW
Bemidji, MN 56601
Phone: 218-209-5759
---
California Area
Glenna Moore, MS, RD
650 Capital Mall, Ste 7-100
Sacramento, CA 95814
Phone: 916-930-3981 ext 332
---
---
---
Tucson Area
Paula R. Mora, MD
7900 South J Stock Rd
Tucson, AZ 85746
Phone: 928-814-7670