Education Materials and Resources (Online Catalog)
Product Details
Gen 7 Magazine - You Are the Seventh Generation (Number 2)
Gen 7 is a magazine for Native American and Alaska Native youth. Its focus is to help prevent and manage diabetes through positive peer role modeling. The magazine features stories about youth eating healthy, being physically active, learning about their culture, and practicing respect for themselves and others.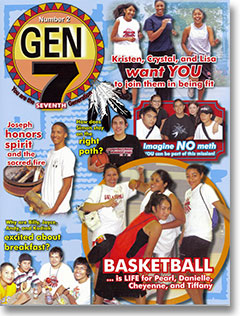 Format:
Magazine
Audience:
Patients/Clients, Youth, Youth Educators
Topic:
Diabetes Prevention, General Diabetes, Nutrition, Physical Activity/Exercise
We're sorry, this item is currently out of stock.
You might also be interested in: