Crownpoint Health Care Facility
Leadership
Chief Executive Officer: CDR Daryl Dineyazhe-Toya, 505-786-6313
Acting Clinical Director: Dr. Kristopher Kelly, 505-786-5291
Chief Operating Officer: Janay Maupin, 505-786-6439
Chief Nurse Executive: Cynthia Hardy, 505-786-6262
Quality Management Director: Laberta Farrell, 505-786-6426
Address
Crownpoint Service Unit
P.O. Box 358
Hwy Junction 57, Rt9
Crownpoint, NM 87313
Phone:505-786-5291
FAX: 505-786-6435
Crownpoint Web Site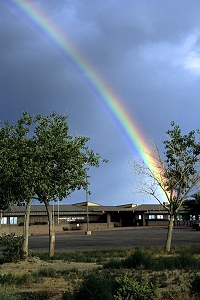 The Crownpoint Health Care Facility serves a population of 20,000 Navajo people. The staff consists of primary care physicians, physician assistants, and nurse practitioners, at a 20 bed hospital. FY20 showed a daily inpatient load of 4, outpatient visits was 129,239; annual OB visits at 717, and the annual emergency room cases number of about 14,643.
Physicians find they have ample opportunities to practice all the skills they trained for in residency, in multi-speciality, but non-departmental setting with continuous back up from colleagues and excellent nursing support in all areas of the hospital. There are no major surgeries performed on-site. However, based on training, our physicians perform a full spectrum of outpatient invasive and non-invasive procedures.
Crownpoint is located in Northwest New Mexico, on the Eastern edge of the Navajo Reservation, only a few hours drive North to the Southern Rockies, or East to Albuquerque and Santa Fe. World Class skiing is close and the area has superb hiking and fishing opportunities.