The Indian Health Service continues to work closely with our tribal partners to coordinate a comprehensive public health response to COVID-19. Read the latest info.
Tribal Leaders Diabetes Committee (TLDC)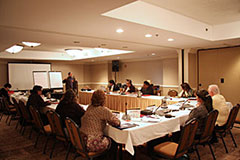 The IHS Director established the Tribal Leaders Diabetes Committee (TLDC) in 1998. TLDC makes recommendations to the IHS Director on broad-based policy and advocacy priorities for diabetes and related chronic conditions as well as recommend a process for distribution of Special Diabetes Program for Indians (SDPI) funds.
TLDC consists of the following members:
One elected or duly-appointed Tribal Leader from each of the 12 IHS Areas
One federal representative
In addition, one technical advisor from each of the following Native organizations serve in an advisory (non-voting) capacity to TLDC: Direct Service Tribes Advisory Committee, National Congress of American Indians, National Council of Urban Indian Health, National Indian Health Board, and Tribal Self-Governance Advisory Committee.
---
Tribal Leaders Diabetes Committee Resources
---
Tribal Leader Letters
---
Urban Leader Letters