El Reno Indian Health Center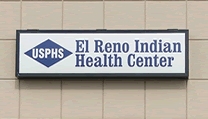 Located in the Oklahoma City suburb of El Reno, the El Reno Indian Health Center provides the usual primary services to the Indian population of Canadian County and part of Oklahoma County. The staff of 3 medical providers sees about 26,000 primary care visits per year.
Vision
Provide quality health care services focusing on prevention, restoration and collaborative relationships that are valued and "exceeds the needs" of our patients, community and tribal partners.
Strategic Goals
Synergize Patient Centered Medical Homes and increase access to care
Utilize quality and data analytics and process improvement strategies to improve health outcome
Increase patient trust and cultivate relationships with Stakeholders
Recruit, Train, Engage, Retain and Utilize GREAT people
Leadership
(Acting) Chief Executive Officer: CAPT Joe Bryant, 580-331-3300
(Acting) Facility Unit Director: LCDR Brett Whitehead, 405-234-8404
Clinical Director: Dr. Sarah Hartnett , 580-331-3300
Who should I call?
Main Office - 405-234-8400
Services
Behavioral Health
Laboratory
Pharmacy
Public Health Nursing
Information for Patients
Nearby Indian Health Service and Tribal Facilities
Nearby Clinton Service Unit Healthcare Facilities