Pawnee Indian Health Center

The Pawnee Indian Health Center is a modern, 67,000 square ft. facility completed in 2004. Each year, the Center provides approximately 38,000 outpatient visits to its patients. The facility provides quality healthcare to patients through a multitude of primary care services and specialty services including cardiology, pediatrics, diabetic counseling, rheumatology, wound care, and women's health, and is equipped with on-site diagnostic services including mammography, ultrasound, CT, and general x-ray.
The Office of Environmental Health and Engineering (OEH&E) Sanitation Facilities Construction (SFC) and Environmental Health (EH) Programs are located at Pawnee Indian Health Center. The SFC program works with Tribes and communities to assist in the provision of safe drinking water, wastewater disposal, and solid waste disposal for Tribal communities and Indian homes. The EH program works with Tribal programs that have direct interactions with the public (food establishments, childcare facilities, etc.,) to ensure that the programs provide safe and reliable services to the Tribal communities they serve.
Leadership
Chief Executive Officer: CDR Seneca Smith
Administrative Officer: CAPT Jeri Coats
Hours of Operation
Clinic hours are Monday through Friday, 8 a.m. to 4:30 p.m.
Who should I call?
Main Office - 918-762-2517
Clinical Services Available
Audiology
Behavioral Health
Dental
Family Medicine
Health Education
Laboratory
Nutrition
Optometry
Pediatrics
Pharmacy
Physical Therapy
Public Health Nursing
Radiology Services
Ancillary Services Available
Purchased/Referred Care (PRC)
Environmental Health and Engineering
Pawnee Service Unit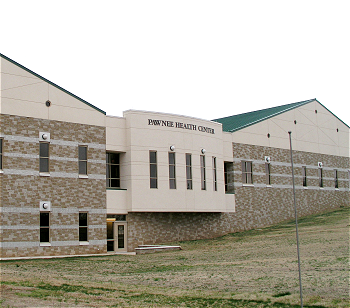 The Pawnee Indian Health Center is located in north central Oklahoma and provides outpatient ambulatory care and is accredited through The Joint Commission. We provide services to all AI/AN beneficiaries and the affiliated tribes within the service unit which includes, the Pawnee, Iowa, Otoe-Missouria, Ponca, Tonkawa, Kaw and Osage Tribes of Oklahoma. Pawnee Service Unit also administers the Purchased Referred Care (formerly Contract Health Service) to assist with any other specialized care that cannot be provided within the direct scope of services. The Service Unit user population is over 15,000 and consists of one federally operated clinic and four tribally operated clinics.
If you have questions regarding care available at the Pawnee Indian Health Center, please contact 918-762-2517.