Haskell Indian Health Center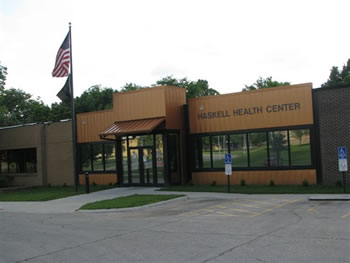 The Haskell Indian Health Center (HIHC) is located next to the Haskell Indian Nations University and in the Kansas University community in Lawrence, Kansas. HIHC is a Joint Commissioned accredited ambulatory facility which opened in 1978 on the edge of Haskell Indian Nations University (HINU). The patient population reflects a rich diversity of Native American cultures from across the United States. The population increases with the HINU school year. In 2013, there were 7,146 active patients registered.
Leadership
Chief Executive Officer: CAPT Kelly Battese, 785-832-4824
Administrative Officer: CDR Shannon Lowe, 785-832-4821
Clinic Director: Dr. Mark James, 785-832-4837
Director of Nursing: LT Sebe Masquat, 785-832-4867
Quality Officer: LCDR Joe Rorabaugh-Irwin, 785-832-4866
Hours of Operation
Office hours are Monday through Friday, 7:30 a.m. to 4:30 p.m.
Who should I call?
Patient Feedback/Questions - 785-832-4821
Office: (785) 843-3750
Services
Dental
Diabetes Prevention Program
Lab
Medical
Nursing
Nutrition
Pediatrics
Pharmacy
Special Diabetes Program for Indians
Nearby Indian Health Service and Tribal Facilities
Kickapoo Nation Health Center - 1117 Goldfinch Road, Horton, KS, 785-486-2154
White Cloud Health Station - 3349-B Thrasher Rd, White Cloud, KS, 785-595-3450