Nutrition / Dietitian Update - August 12, 2015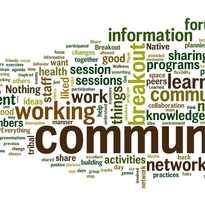 From: Calderon, Beverly A (IHS/CAL)
Sent: Wednesday, August 12, 2015 4:25 PM
Subject: Nutrition/Dietitian Updates August

Hi All,
I hope this finds you well and busy with good things.
Wow….11 things to share!
Attached (online, PDF), our contact list (no changes from the prior version sent). Reply to this email with changes, and they'll be included with the next email.
Planning for the 2016 CA Providers' Best Practices & GPRA Measures CME conference has begun, see attached Save the Date. Please help with the planning by completing this short survey, https://www.surveymonkey.com/r/HDBBCV3 . We hope to have again the pre-conference Nutrition Learning Basket & Patient Engagement session with CPEUs. If you have questions about the 2016 Best Practices, please contact Rachel Harvey (cc'd).
Here are the results from the survey included in the prior email with updates. The input is helpful, even with a low response rate.
100% were interest in participating in regularly scheduled virtual meetings using adobe connect.
50-50 split regarding frequency of meetings, between monthly and biannually.
50-50 split regarding importance of CPEUs, between not important and somewhat important.
100% willing to volunteer and provide (facilitate) nutritionally relevant discussion/learning topic.
Food Insecurity Assessment and Tool from IHS DDTP, is available online at: http://www.ihs.gov/MedicalPrograms/Diabetes/HomeDocs/Resources/InstantDownloads/FoodInsecurityAssessTool.pdf. This is a share forward resource that Monica Giotta sent to the CA t/u diabetes group in early July. This new Food Insecurity Assessment and Resource Tool is intended to be used by health care providers/program staff to screen for food insecurity in their patients/clients in three quick steps and then to connect those who screen positive to local food resources. The second page of the tool is a community food resource page that health care providers/program staff can fill out electronically, print, and provide to patients, clients, and community members.
Attached are two very pertinent articles for your reading pleasure, that Monica Giotta shared. If you've not already seen them, both the Tele-Nutrition and Community Health RD include valuable information. Also attaching, the previously distributed Tele-Nutrition guidelines resource (PDF) developed a few years ago for CA programs. If you have questions related to delivery or security of tele-nutrition from and/or to your tribal/urban program Steve Viramontes (steve.viramontes@ihs.gov) is your CAO resource.
High Protein Fad Diets and their Effects on Gut Health (PDF) webinar PPT is attached. This CPEU presentation was hosted by the IHS Medical Nutrition Therapy Action Team (MAT) earlier today. To find out when the recorded version of the webinar will be available, email the IHS MAT at IHSMNTActionTeam@ihs.gov
If you've not, you can join the IHS Dietitian Listserv by clicking on this link: http://www.ihs.gov/listserv/topics/signup/?list_id=198.
On the IHS DDTP website additional recorded learning sessions are available at: http://www.ihs.gov/MedicalPrograms/Diabetes/index.cfm?module=trainingSeminarsTabbed#ADVRECSESSIONS
Attaching for you to review and share is the summary report from the Community Wellness Forum 2015 (PDF).
If you have resources to share that we can add to our Portal, email and let me know.
Instructions on how to join our the CA Nutrition portal.
Thanks,
Bev
Beverly A. Calderon, MS, RD, CDE
California Area Indian Health Service
Health Promotion Disease Prevention
and Nutrition Consultant
1320 W. Valley Parkway Suite 309
Escondido, CA 92029
Phone: (760) 735-6884
Fax: (760) 735-6893
Email: beverly.calderon@ihs.gov