Diabetes Healthy Heart Project Toolkit
Module 2: Identifying, Recruiting, and Retaining Participants
Purpose To provide information and lessons learned from SDPI Healthy Heart grantees on identifying, recruiting, and retaining individuals in Healthy Heart (HH) programs.
Overview When your clinic is ready to implement a Healthy Heart program, it's important to determine how you are going to identify and recruit participants. Planning for clinic-based referrals and community-based recruitment activities will help you meet your recruitment goals. Once your program has identified and recruited individuals, it's important to retain participants to help them achieve cardiovascular disease (CVD) risk reduction goals.
The SDPI HH grantees reduced CVD risk in people with diabetes. However, these same CVD risk reduction approaches have been shown to be effective in other people at risk for CVD. As such, some programs may wish to include people without diabetes who could benefit from this intervention. Ensure that participants are healthy enough to be able to safely participate in program activities.
This module provides strategies and ideas to consider for identifying, recruiting, and retaining participants.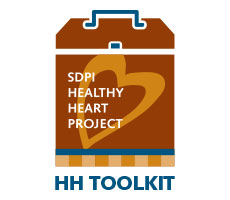 Module 2: Identifying, Recruiting, and Retaining Participants
---
Keys to Success
Programs should determine eligibility for participation based on their program's preferences and resources.

People with certain conditions may not be appropriate for participation in HH programs (e.g., pregnancy, hospice care).
Participants must be eligible for health care services and have established a medical record at the clinic associated with the HH program.

Types of participants to consider including in your HH program:

People with diabetes.
People with prediabetes.
People without prediabetes or diabetes, but who have or are at risk for developing CVD (e.g., high blood pressure, abnormal lipid levels, tobacco use).
---
For more information and examples of resources to identify, recruit, and retain participants:
Here are some considerations for planning your recruitment activities: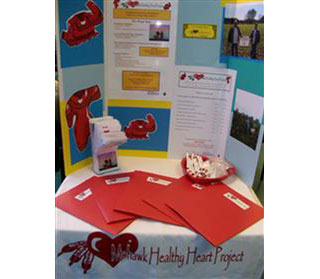 Mohawk Healthy Heart Project Booth
Plan and implement clinic-based recruitment.
Present expected program outcomes and benefits to providers and other clinic-based departments.
Develop a system to obtain referrals from health care providers.
Work with clinic staff to identify individuals who may be eligible for your HH program.
Arrange for home visits by community health representatives, public health nurses, or case managers to encourage eligible individuals to participate.
Plan and implement community-based recruitment.
Participating in community events provide an opportunity to promote your program and attract participants who may want to enroll.
Consider recruiting at other programs' or organizations' events such as:

Health fairs, walks, and fun runs
Tribal events and Tribal work settings

Invite Tribal leaders, community leaders, and well-known health advocates to join your community events.
Encourage family involvement and referral of family members and friends at all recruitment activities.
---
For more information and examples of resources to identify, recruit, and retain participants:
Participants that attend program activities consistently are more likely to benefit from the intervention and reduce their risk of CVD. Programs should implement activities and services that meet the needs of participants to increase retention.
Develop a retention plan.
Conduct a variety of retention activities.

Design family-oriented activities.
Invite participants to join talking circles or support groups.
Offer a wide array of physical activity, nutrition, self-care, and behavioral health activities and events.

Communicate with participants regularly.

Ongoing communication is a key element for retaining participants. Consider providing information through Tribal media outlets or newsletters.

Follow up with inactive participants.
Identify possible solutions for barriers to participation.

Child Care – Provide activities for children during classes and events. Community partners may be able to assist in providing this service.
Transportation – Use Tribal transit services, program vehicles (if available), or help participants set up carpools.
Family Support – Invite participants' family members to participate so they will better understand the purpose of the program and its benefits.
Personal/Work Schedules – Offer classes in the evenings and on weekends as needed.
---
For more information and examples of resources to identify, recruit, and retain participants:
Document recruitment contacts, event participation, successes, barriers, and outcomes.

This information will show which strategies and events were successful and help you assess progress toward your goals.
Lessons Learned
Getting out in the community will increase your ability to screen more people and get the program known -- so that even though the people you talk to might not have diabetes, a family member or friend might. If you can change one life, your program has been a success in that person's life.
What's been surprising is that not only do the participants want to be in the program, but their families also want to be
in the program. They want to be a part of it because they want to stay healthy themselves.
We partner with Community Health Representatives at community walk events and encourage participants to check their blood sugar before and after they walk. We offer walkers three minutes with a diabetes educator to discuss their before and after sugars and the effects of walking. We encourage people to seek clinic follow-up for numbers that are of concern. Although not used directly for recruitment, screening that raises community awareness about our program is a key to success.